Father and son team Andy and Owen Phillips, both of whom are pilots and aviation engineering enthusiasts, started a subcontract machining business in Havant in 1994. After four years, they applied their extensive knowledge acquired over many years of building and flying aircraft to transition their firm, Andair, into a manufacturer of fuel system components for light aircraft in the sport, amateur-build and commercial aviation sectors.
The business, which is certified by QAS International and to ISO 9001:2008, is now a leading global producer of such equipment, with 90 percent of its fuel selectors, filters, check valves, gascolators and fuel pumps going to export markets. Regular customers include Cessna, Cirrus, Czech Sport Aircraft, Diamond, Grob, Grumman-Northrop, Rotax/Bombardier, Scaled Composites, Technam and Vans.
Miyano fixed-head, twin-spindle CNC lathes from Citizen Machinery UK have underpinned production of Andair's turned and milled parts since January 2005, when the first turning centre with sub spindle was delivered to the Havant factory, a 5-axis BND-42S. It proved so efficient that a second, identical model was ordered six weeks later. Fast-forward 16 years and the company has bought a total of seven Miyanos, the latest being the first 80 mm bar capacity ABX lathe to be installed in the UK. It arrived on the shop floor in June 2020 equipped with an Iemca KID 80 short bar magazine.
Andair had been waiting eagerly for the launch of the 80 mm version of this twin-spindle machine with two Y-axis turrets, having since 2015 been producing 3 inch and 2.75 inch diameter components from billet held in a Hainbuch chuck in the main spindle of a smaller ABX-64SYY, of which there are two in the Havant factory. The high requirement for components of this size meant that the lathes were being used for chuck work 60 percent of the time.
Owen said, "Production efficiency of our larger components used to be lower because we could only manufacture a limited number of components from a billet, say five or perhaps seven. In the case of the aluminium body for an oil-air separator we are currently machining, we could only produce one per billet.
"Now all these parts can be machined from bar using the 80 mm capacity lathe, saving a lot of time. It runs continuously throughout the day and although we are not set up for 24/7 operation at present, with this machine and our other Miyano bar autos is it is feasible in the future."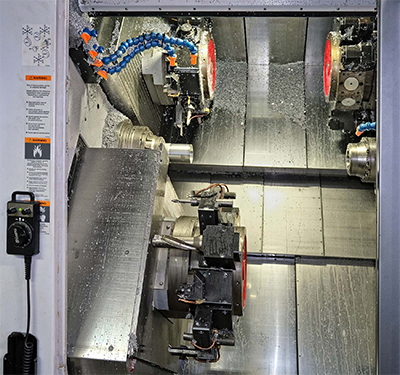 The other lathes in the factory all have twin turrets and Owen had ordered a similar specification for the 80 mm model. Due to the cancellation of the MACH 2020 machine tool exhibition, however, which should have been held in Birmingham last April, Citizen Machinery had in stock a triple-turret ABX-64THY (80 max dia) 12-axis model with a Fanuc control system that it had intended to launch at the show. Owen was initially hesitant when offered the machine, having never used a lathe of that configuration before, but decided to buy it anyway as it was available immediately. It turned out to be a revelation.
He enthused, "I would not buy another twin-turret machine in future, because having three turrets is so much more productive. I would like a four-turret version if Miyano made one.
"It is no problem to transfer work to the more complex lathe, as a new program can be checked easily using the manual retrace function in the control, avoiding any possibility of interference between tool and workpiece."
He explained that the two turrets positioned above the spindle centreline, each with 12 live stations, are dedicated to working at the main and counter spindles respectively. The third turret is located below and has unrestricted travel to operate at either spindle to provide flexibility for balancing front and reverse end machining. Three tools can be in cut simultaneously to achieve very high levels of machining efficiency.
About 60 different parts have so far been produced on the new lathe, all from 3 inch diameter bar. In fact, in one instance where a customer required a large valve machined from a 4.5 inch diameter billet, Owen turned the end of it down to 80 mm so that it could be machined in the collet.
In the case of the oil-air separator body, it is now possible to machine five from bar in 30 minutes whereas before, with an operator loading billets manually into the chuck of an ABX-64SYY, it took at least 45 minutes to achieve the same output. In other words, productivity has been boosted by more than 50 percent. A further benefit to Andair is that the two 64 mm bar lathes can now be devoted to the collet work for which they were originally intended.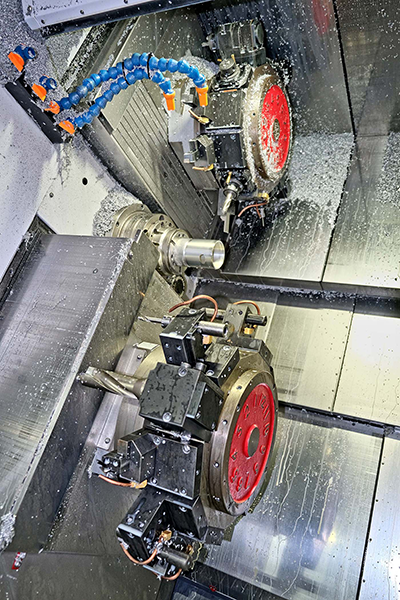 Another example of where the 80 mm bar machine has introduced benefits is when machining one of the few Andair components the pilot actually sees, a fuel selector fascia plate that requires a very high surface finish, which is achieved on the aluminium part using a diamond tipped tool. The plate is also engraved to indicate which tank has been selected. Previously, after turning it from a billet, a second operation was required on a machining centre to mill material from the reverse and to drill four holes.
The method of manufacture has now been altered, whereby milling and drilling as well as turning are carried out from bar on the Miyano, leaving only a small operation to clean the bore on a separate machine. Cycle time has been reduced by at least two minutes and an operation has been eliminated.
In the case of another component, in fact the first part that was made on the ABX-64THY (80 max dia), all three turrets had almost an identical amount of work to perform. Cycle time is 2 minutes 15 seconds including parting-off and the component comes off finished, whereas previously the cycle was 4 minutes, plus there was a need for a second operation, requiring extra time for both metalcutting and inter-machine handling.
Aluminium accounts for three quarters of throughput at the Havant factory, with a wide range of other materials also machined including brass, bronze, plastics, tool steel and other steels including stainless. Batch sizes are relatively low, normally between 100- and 500-off, so there is a lot of machine preparation.
The Miyanos are quick to set up however, as they have built-in tool setters and programs are prepared off-line using an Esprit CAM system. Typical tolerance that needs to be held is ± 0.02 mm and Owen declared that if it is exceeded on any occasion, it is always the tool that is at fault, as the machines do not move.
He concluded, "I am a big fan of Miyanos. They are very productive, accurate machines and have beautiful spindles that produce excellent surface quality. I wouldn't look at another make of lathe.
"Support from Citizen has been fantastic, from sales to delivery, installation and commissioning – they are absolutely incredible."