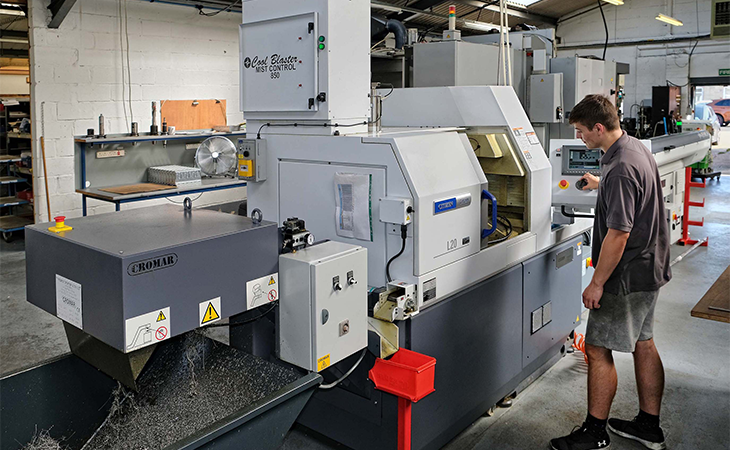 "We believe that investment in the very latest technology is the key to quality, reliability and competitiveness," said Dave Zollo, joint owner of contract machinists IML (UK). He and Jerry Way started the business in 1995 and moved into the current, 14,000 sq ft premises in Weymouth in 2011. One year later the first sliding-head lathe arrived, a Citizen Cincom A32-VII with 32 mm bar capacity, followed in 2013 by a 16 mm bar model, a Cincom C16-VI.
The early investments were triggered by an increase in contracts from the medical industry and a desire to be able to manufacture components in one hit, such as endoscope cleaning equipment parts. To cope with an ever increasing level of work, including for the high-end automotive sector which has grown over the past couple of years to become more than 50% of turnover, there are now four different models of sliding-head lathe on site from the same supplier.
The latest two, designated L20-XLFV and L32-XLFV, were installed in 2018 and 2020. Unlike the first two Cincoms, they offer the flexibility to allow removal of the guide bush, as well as having the notable benefit of low frequency vibration (LFV) software built into the operating system of the control. Mr Zollo noted that the more modern machines are also more user-friendly, allow better access and are quicker and easier to set.
He explained, "These advanced, twin-spindle, sliding-head lathes are helping to keep us competitive on the world stage, as is automation throughout the factory.
"All of our lathes including four fixed-head models are bar-fed and work 24/7, with the sliders able to accommodate a wide range of batch sizes from typically 50- to 30,000-off. Dimensional tolerances of less than ± 10 microns may be easily held.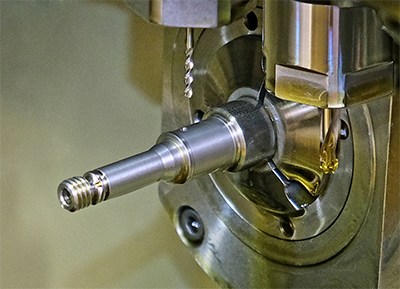 "Even smaller quantities are economical to produce, partly because we have adopted a policy of standardising on one size of stock on each of the Cincoms, so we do not have to waste time changing over bar sets.
"We have also invested in automation on the milling side of our business, which accounts for more than half of turnover. Our four vertical machining centres are equipped with robotic loading and remote monitoring, while two horizontal machining centres on the shop floor have a twin automatic pallet changer to minimise idle times.
"It all helps to keep costs down and allows us to quote our customers prices that are very similar to those we were charging two decades ago."
Aluminium bar, which accounts for a significant proportion of throughput of turn-milled parts, is the villain of the piece as regards sliding-head turning in the Weymouth factory. The material is often of variable quality in terms of straightness and diameter variation, so can jam in the guide bush of sliders and requires frequent supervision by the operator to adjust the collet.
The ability to remove the guide bush on the L20 and L32 in less than half an hour allows the subcontractor to turn aluminium bar into shorter components in fixed-head mode without problems. It also has the advantage of reducing the remnant length from typically 275 mm to 100 mm. Completion of one recent IML (UK) contract consumed 300 bars, so it is clear that a lot of material and money can be saved.
When turning difficult to chip materials, Citizen's LFV software, which is part of the control's operating system, breaks swarf into manageable chip sizes, whereas normally it would be stringy and entangle itself around the tool and component. This capability to manage the size of swarf is in addition to any chip breaking features that may be ground into an indexable insert. Mr Zollo singles out aluminium as well as stainless steel bar to be particularly problematic in terms of bird's nesting.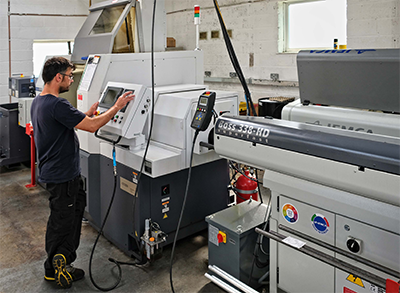 To alleviate it, the LFV function can be switched on and off via G-codes in the part program, enabling optimal use of the feature during different parts of a cycle. It is, however, not a pecking macro in the CNC program itself. As one operator looks after the four sliding-head lathes, LFV is helpful in minimising periodic attendance at the machines to disentangle clogged swarf. It is notable that the 8-axis L32 has LFV on both the main and counter spindles, allowing the oscillations that produce the chip breaking action to assist in the production of both front- and reverse-end turned, milled and drilled features.
LFV oscillation lifts the tool tip clear of the component surface by tens of microns for ultra-brief periods to allow coolant to penetrate the cut more efficiently. It reduces heat and prolongs cutter life, while at the same time enabling depth of cut to be increased, even when processing tough materials. It often eliminates the need for a roughing pass and significantly shortens cycle times. Mr Zollo advised that it is of major benefit during attended day and night shifts and especially so during the weekend when staff are not present.
He concluded, "Swarf build-up is really the only thing that stops modern bar-fed CNC lathes, which are inherently very reliable. LFV on the Citizen sliders virtually eliminates the hassle of clearing away swarf and consequent loss of production, especially during minimally attended operation.
"Even when we are running them unattended at the weekend, it is unusual for them to stop before the bar runs out. Should there be a problem, however, the on-board cameras allow us to monitor production and come into the factory if necessary to take remedial action."