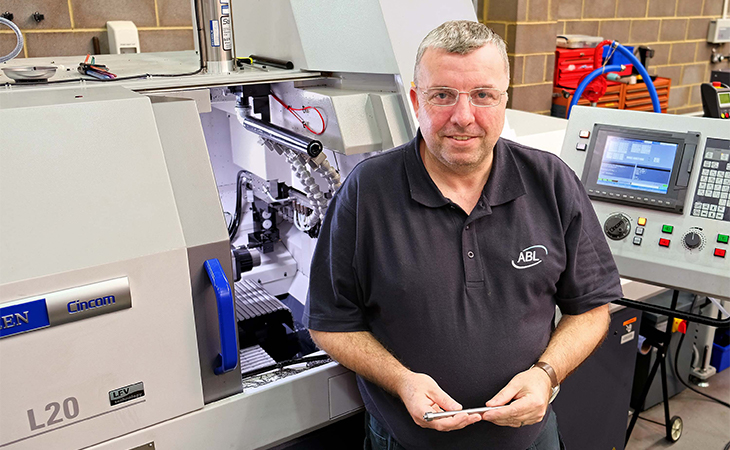 The first sliding-head turn-milling centre to be installed at the Ferndown, Dorset factory of Air Bearings Ltd (ABL) is a Citizen Cincom L20-VIII LFV. Delivered in June 2019, it has brought in-house the production of nearly all shaft-type components, saving around £8,000 per month previously spent on subcontract Swiss-type turning. As a consequence, the machine paid for itself within 18 months.
Speeds up to 350,000 rpm are attained by ABL's air bearings, which are used globally in machinery for semiconductor wafer slicing, printed circuit board drilling, and micro-machining applications as diverse as polymer lens manufacture for cataract operations, edge grinding of toughened glass for mobile phone screens, watch component manufacture and milling of coining dies. The high rotational speeds demand that sub-micron tolerances be held on some turned bores and other features of component parts of the air bearing.
This in turn means that operations prior to diamond turning and grinding of the bore and outside diameter must also be very accurate to meet pre-finishing requirements. In this department, ABL operates two vertical machining centres, seven 2-axis chuckers, two multi-axis, bar-fed, fixed-head lathes and now the Citizen L20 slider.
Only top-end machine tools are purchased by ABL to meet the levels of precision required to ensure rotational motion of the air bearing spindle to within a couple of microns. The shaft assembly with its six key parts is especially critical.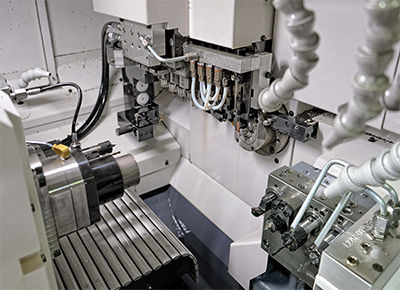 ABL's senior production controller Dave Stacey advised, "Take the collet, for example, produced from 13 mm diameter tool steel bar. The concentricity of the front bore to the taper is tied up to 30 microns TIR (total indicator reading).
"Dimensional tolerances on diameter and length need to be within 50 microns or sometimes 25 microns to allow post machining to sub-micron accuracy, while there is a 6-micron limit in the bore.
"Originally, before our decision to use subcontract services, these collets were machined in-house in two operations – turning and boring on a fixed-head lathe and then drilling of eight radial holes on a machining centre.
"The time-consuming process led to our pre-finishing department only producing the quantity that was needed, which could be as low as 15-off, yet external heat treatment and stress relieving before final finishing still cost £250 a time, irrespective of component quantity.
"Now, with single-hit turn-milling of the collets on the Cincom L20, we run off typically 500, representing three months' supply, at a fraction of the cost of subcontracting them out, added to which we can take full advantage of the fixed-cost heat treatment service."
It is a similar story with the other rotational components in the shaft assembly of an air bearing spindle, such as the EN57 stainless steel collet studs and guide pistons, of which there are six variants. All are produced more economically on the slider, as they involve classical Swiss-type turning from bar less than 13 mm in diameter.
The largest part produced on the Cincom L20 is a 250 mm long push rod turned from 16 mm silver steel bar down to 7 mm diameter in one pass. It would not be feasible to turn the component in several passes, as it is longer than the guide bush; while recourse to turning between centres using the sub-spindle would unduly extend the cycle time and leave a witness mark.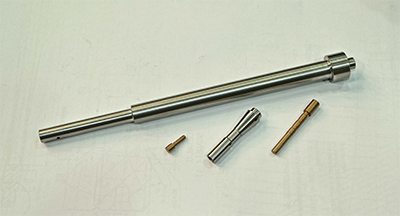 Taking a 9 mm depth of cut in this high carbon steel over much of the component's length is an ideal time to activate Citizen's patented LFV (low frequency vibration) chipbreaking software in the Mitsubishi control. It allows what would normally be long, stringy swarf to be broken into shorter lengths, the size of which is determined within the program, to avoid birds-nesting around the component and tool and the need to remove the swarf repeatedly from the machining area by hand. Economy of production is greatly increased, as there are no stoppages for swarf clearance, and the lathe can be left to run unattended. Additionally, absence of chatter improves the surface finish on machined components.
Notably, LFV may be switched on and off during a cycle by G-code command, but is not a chipbreaking macro within the program itself. Instead, and distinct from other systems, it is part of the CNC operating system and as such does not compromise tool life.
Mr Stacey concluded, "The Cincom lathe is so fast at producing rotational parts from bar for our air bearings, even with the larger batches we are running, that the machine is often waiting for work during the day.
"We are therefore looking at putting classical fixed-head work onto the machine, parts that are shorter compared with their diameter, which will provide an opportunity to bring further subcontracted turning in-house.
"For this purpose, the ability to run the Cincom L20 in guide bush-less mode to save material by shortening the minimum bar remnant will provide an additional saving."