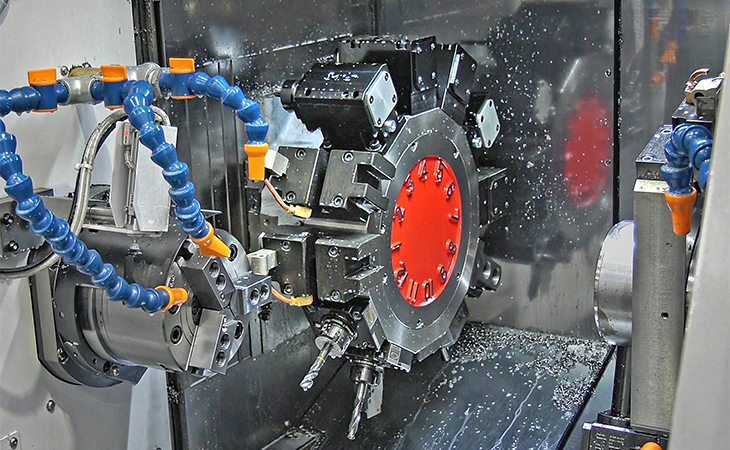 Established in 1942, Coventry-based Adams Lubetech is member of a leading European group of specialist manufacturers of single-point and centralised lubrication equipment for OEMs in the food and beverage industry, compressor and conveyor sectors, and across industry in general.
Consistently rising sales worldwide meant the company needed extra production capacity. So in early 2020 the firm purchased its first lathe from Citizen Machinery, a fixed-head Miyano BNJ-51 turn-mill centre, to machine not only rotational parts but also components that were previously produced on a manual mill or a power press.
Eric Chambers, Factory Manager at Adams Lubetech explained, "With these parts in mind, we wanted a powerful, rigid turning centre that was equally capable of milling. We selected the Miyano bar automatic primarily due to its competitive price.
"The first purely prismatic component we produced on it was an anchor block for our sister company in Belgium. We were milling and drilling the steel blocks manually in several operations, which was time-consuming, so we decided to use the Miyano as a chucker to produce them automatically.
"The support provided by Citizen's applications engineers was brilliant. They helped us enormously by developing the process, writing the program, and setting up the machine including replacing the chucks and jaws to fixture the part. They even came on site for three days to oversee production of the first-off components."
The lathe effectively doubles as a CNC machining centre in this application. Each part, which has large threaded holes and smaller diameter holes machined into multiple faces, comes off the machine complete in a cycle time of 139 seconds.
The Miyano is also taking work from a power press in the Coventry factory, resulting in even greater advantages. A deep-drawn part previously required seven sequential operations, removal for skimming on a capstan lathe and return to the press to be slotted. Lead-time was more than one month to produce a typical batch of 8,000 and there was a lot of manual intervention for inter-machine handling. The same part is now produced in one hit from bar on the twin-spindle Miyano in 2.5 minutes, so the entire batch can be finished and shipped in a fortnight if the job is left to run 24/7.
Mr Chambers concluded, "We operate in a global marketplace and need to reduce costs internally to compete. Production equipment like the Miyano, which has reduced cycle times on average by 20 per cent and has expanded the variety of parts that can be machined, is helping us to keep manufacturing costs down."