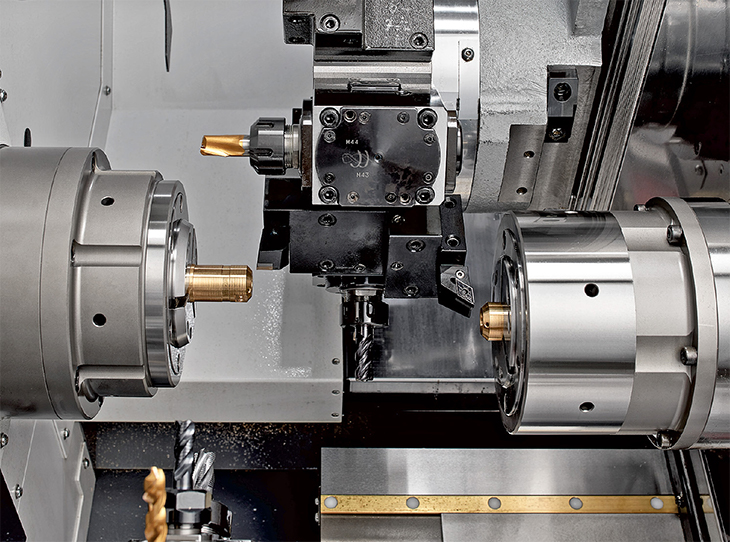 Complex components up to 65 mm in diameter may be turned and milled from bar on a new Miyano fixed-head lathe launched by Citizen Machinery UK. The 8-tonne BNE65-MYY is equipped with two turrets having Y-axis travel in addition to X- and Z-axis movements. One turret is positioned above and the other below the centreline of the twin-opposed spindles and both tool carriers have 12 live stations. A C-axis on each spindle and movement of the sub spindle in X and Z bring the bar auto's CNC axis tally to 10.
The 2-axis movement of the sub spindle facilitates superimposed machining, whereby tooling on both faces of the top turret can simultaneously cut front-end features on the bar stock and reverse-end features on a parted-off component. With the lower turret also working at the main spindle performing pinch turning, milling or drilling, for example, or perhaps OD turning while axial drilling is in progress above, three tools are in cut at the same time.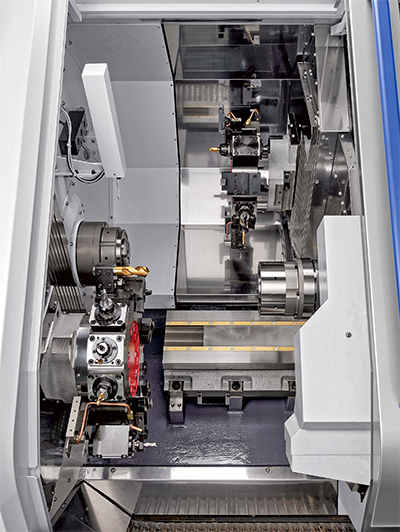 Together with the double Y-axis movements, the configuration provides great flexibility to balance front and back working cycles with considerable precision, maximising production output by not having one spindle waiting around for the other to finish.
Contributing further to high productivity are fast rapid traverses up to 20 m/min, plus main and sub spindles with generous power ratings of 18.5/15 kW (30min/cont) and 11/7.5 kW (15min/cont) respectively. As both spindles rotate at up to 5,000 rpm, productive turning is maintained even when machining smaller diameter sections of a workpiece. Rotary tool specification is also impressive at 4 kW / 6,000 rpm.
The slant-bed design encourages efficient chip flow so that production can continue uninterrupted. Lapped slideways have been adopted for all but the cross motion of the sub spindle to ensure a high level of rigidity as well as effective vibration damping for delivering maximum cutting performance and precision together with long tool life.
Control is by the Mitsubishi M830W, which has a new HMI with a 15-inch touch-screen control for convenient operation, including on-screen selection of the turret tooling. Intelligence built into the control simplifies programming, especially of superimposed cycles by automatically synchronising those sections of the program. A new colour scheme has been adopted that is said to convey information more efficiently to the operator.