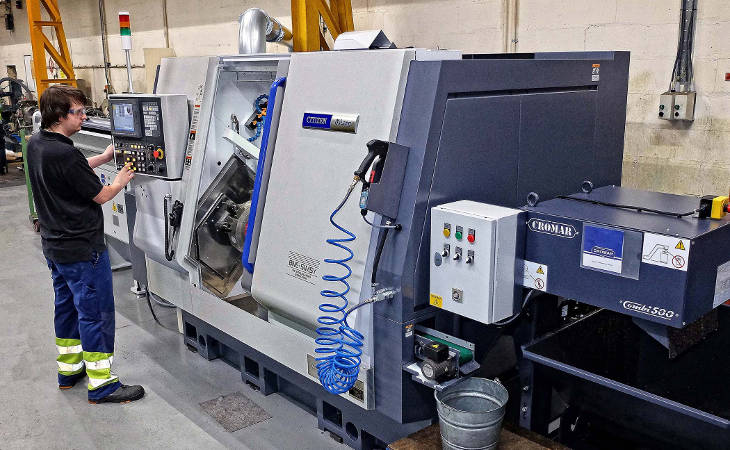 Installation by Citizen Machinery of a fixed-head Miyano BNE-51MSY twin-spindle, twin-turret turning centre at electrical wiring conduit manufacturer ABB Cable Management Product, Coleshill, heralds a fundamental change in the way the company turn-mills its cable end fittings.
Cycle time savings of up to 70 per cent with more to come, reductions in manufacturing cost, scrap and returns, and elimination of the need to outsource 10 per cent of production to subcontractors will combine to amortise the cost of the Miyano well within 18 months of its installation at the beginning of January 2019. Manufacturing unit manager Andrew Fellows describes this payback time on a major item of capital expenditure as "brilliant".
Every week, 100,000 metres of flexible metal conduit and 65,000 metres of nylon conduit find their way predominantly into the automotive, rail and mining industries across Europe, the Middle East, China and as far afield as Australia, while some are destined for installation in the parent group's robot systems. From these numbers it is clear there is a high demand for the mainly brass fittings, plus some stainless steel, aluminium and plastic varieties, that are needed at both ends of every length of conduit.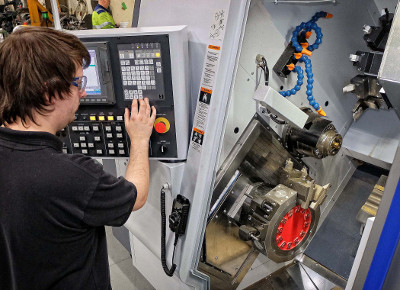 Fittings needed in large volumes are produced in-house on six cam-type multi-spindle autos, while the shorter runs are completed on four single-spindle, single-turret CNC lathes and now the Miyano twin-spindle, twin-turret turning centre, which replaced a similarly specified, ageing model on which one of the turrets was defective.
Comparing the performance of the latter two lathes, Mr Fellows advised, "In the first two weeks of the Miyano arriving, we transferred onto the new machine the manufacture of four fast-moving products, all of which benefitted from drilling on both end faces simultaneously at the main and counter spindles.
"Average cycle time saving was 59 per cent. The largest reduction was 70 per cent in the case of a fitting that previously required 133 seconds to produce. The turn-mill cycle now takes 40 seconds to complete on the Miyano."
Senior operator Dan Gardner added, "We have only taken advantage so far of cutting with two tools at a time, but the superimposition function in the Mitsubishi M730VS control, coupled with Y-axis movement of the upper turret and X-axis travel of the counter spindle, allows three tools to be in cut at the same time.
"After five days' training from Citizen, both on- and off-site, we carried out a time study on a complex fitting that will see an 80 per cent reduction in cycle time from 230 to 46 seconds."
He went on to describe a further benefit that comes from the ability to have 6,000 rpm live tools with 20 Nm of torque at all stations in both turrets, a total of 24 positions. Whereas 85 per cent of production on the single-spindle lathes is currently from hexagonal bar, the plan is to reduce this to zero in favour of round bar over the coming years as the machines are upgraded and powerful driven cutters are able to mill the flats economically. This process is starting with the Miyano.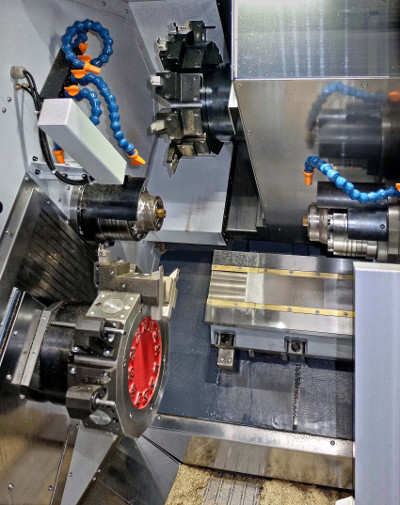 The main advantage will be longer service life of the lathes and of the bar magazines feeding them due to the absence of interrupted cutting of hexagonal stock and hence lower vibration levels. In the case of the Miyano, it will also allow round bar at the full 51 mm diameter capacity to be rotated in both spindles at the maximum speed of 5,000 rpm, whereas it would need to be backed off by 75 per cent to run the largest possible size of hexagonal stock. For this reason, such material currently machined on the BNE-51MSY at Coleshill is restricted to 38 mm, which can be rotated at full speed.
Mr Gardner advised that despite utilising mainly hexagonal stock at present, the rigidity provided by the Miyano machine's bed, hand-scraped box slideways, spindles and turrets is nevertheless sufficient to allow total tolerances down to 30 microns to be held on fittings, a level of accuracy needed for explosion-proof and watertight conduits.
Data collection and display on dashboards of overall equipment effectiveness has been instigated by Mr Fellows since his arrival at the factory in July 2018. Optimisation of every aspect of around-the-clock production has resulted in 24 per cent more output in five days than was achieved before in seven days, lowering manufacturing cost by 17 per cent and raising competitiveness.
Installation of the Miyano, with its elevated level of productivity, will improve these figures further. So also will the imminent arrival of a presetter for off-line tool setting, which will cut two-thirds to three-quarters off the present 60-minute changeover time for the next batch run, which can be as low as 50-off.
According to Mr Fellows, selection of the Citizen Miyano BNE-51MSY was down to the capital cost being 30 to 40 per cent less than two alternatives considered by ABB Cable Management Product, in line with company policy. Lead-time from order to delivery was also the shortest at just 12 weeks.