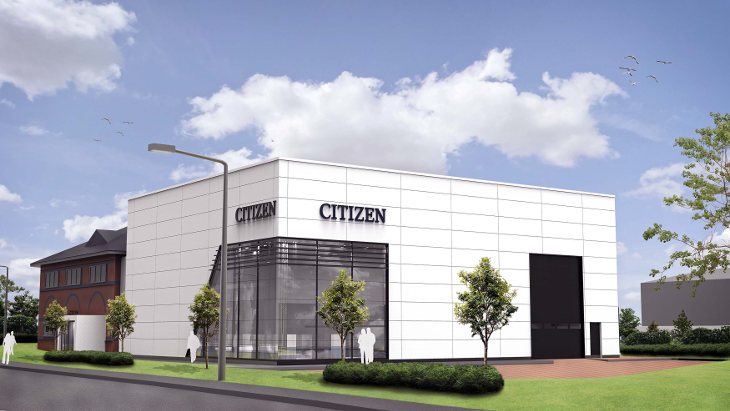 Need for more turnkey capacity drives £3 million investment
The British and Irish subsidiary of Japanese CNC lathe manufacturer, Citizen, has opened a new centre of excellence on a 1.1 acre site at Hurst Business Park in Brierley Hill, West Midlands. It houses a showroom, international conference area, customer training school, applications engineering department and administrative offices.
Additionally, the 1,660 square metre building close to Birmingham provides extra space for preparing an increasing number of high-value, automated turnkey installations complete with programs, tooling and accessories. Both at home and overseas, OEMs, first-tier suppliers and subcontractors are asking for production solutions to be delivered in weeks rather than months to fulfil new business requirements.
Citizen Machinery UK's headquarters remains in Bushey, Hertfordshire, where a similar range of activities takes place. It is also a distribution hub for sales of machines in France, Spain, Portugal, Scandinavia, the Middle East and Africa.
Deputy managing director Darren Wilkins explained, "Our headquarters, where a majority of office-based staff is located, was designed for the traditional Cincom sliding-head business. Now, however, following the UK merger of Citizen and Miyano in 2011, additional space is needed to support growing demand for the latter's fixed-head, 51 mm and 64 mm bar capacity turning centres.
"We have become a victim of our success, which saw Citizen grow to be market leader for sales of bar-fed CNC lathes in the UK and Ireland in 2018. Our sliding-head auto market share has increased, while we also had our best ever year for fixed-head machine sales.
"It is a resounding endorsement of the health of UK manufacturing and a sign of the confidence that Citizen Japan has in the new UK management team that our head office has decided to invest more than £3 million in developing this market further, despite the turmoil of Brexit."
The iconic premises in Brierley Hill is well known in the area and is the flagship building on the estate, as the 980 square metre offices were built for and formerly occupied by the local newspaper, Express & Star.
Adjacent to it is a newly constructed, 680 square metre showroom and technical centre that has increased the available floor space and transformed the facility to suit a machine tool business, including the installation of a 16-tonne internal crane. Partner companies, such as those offering tooling, workholding equipment and CADCAM, are being invited to set up permanent demonstration areas within the extension.
New personnel to add to the current headcount of 54 are being recruited to work in the new centre, including staff for software development, applications engineering and machine servicing. These will be in addition to four people already working at a pre-existing building nearby, the former home of Miyano UK before the merger, which will remain a satellite facility as forward orders are so high that the space will be needed to prepare installations.
It is notable that more of Citizen Machinery UK's customers are closer to these Midlands facilities than they are to the headquarters and southern showroom near London, so service back-up for a majority of users will be enhanced.
Brierley Hill Open House
Citizen will hold an open house at the new facility for customers and press from 14th to 16th May 2019. Four new lathes will be launched, all fitted with Citizen's patented, 2-axis LFV (low frequency vibration) chipbreaking software integrated into the operating system of the control. There will be live demonstrations on a total of 20 Cincom and Miyano machines and an opportunity to meet with many supplier companies.
Opening times will be 9.00 am to 5.00 pm on the Tuesday and Thursday, but on Wednesday 15th May the event will continue until 9.30 pm for an opening party in the evening.
Those interested in attending are invited to register for the event on the Citizen Machinery UK website: www.citizenmachinery.co.uk/centre-of-excellence