Renishaw's installation last December (2018) of five more Cincom CNC sliding-headstock turning centres from Citizen Machinery raises the metrology equipment producer's tally of lathes from this supplier to 58. The annual output of components from the machines exceeds 2.5 million.
Three of the latest 12 mm capacity Cincom B12 lathes fitted with Iemca Elite 112 bar magazines were installed at Renishaw's Miskin plant in South Wales, where 20 Citizen sliding-head turn-mill centres were already in use, while the other two went to the company's Stonehouse factory in Gloucestershire.
Senior production engineer Robert Horsley advised, "The latest investment in Citizen lathes, which raised the number we use by nearly 10 per cent, was driven by increased worldwide demand for our measurement technology.
"The B12 lathes are mainly devoted to ultra-fast turning and milling of 303 stainless steel bar to manufacture styli and other components for our probes, which are needed in large volumes. We normally produce a month's worth for stock, which can be anything from 1,200- to 30,000-off, before we change over a machine to start a new batch. Run times are at least eight hours.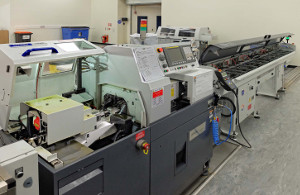 "All of our Cincom turning centres have live tooling and most are twin-spindle models to enable single-hit production. However, we also have three single-spindle F-series lathes of 12 mm and 16 mm capacity in Miskin dating back to the mid-80s. They still make high quality parts in relatively low volumes, such as those needed for some of our metal 3D printers, position encoders, laser calibration products and spectrometers."
An extensive variety of materials is processed, ranging from mild, stainless, carbon and low alloy steels through brass and aluminium to corrosion resistant copper-nickel-zinc alloys. According to Mr Horsley, all of the lathes hold tolerances down to ± 20 microns parallelism and squareness and ± 50 microns on milled features. Surface finish down to Ra 0.4 is easily achievable, doing away with the need to cylindrically grind cosmetic features on products.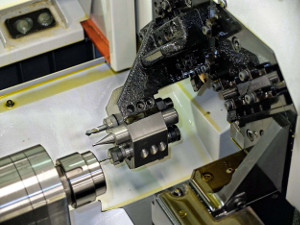 Siemens NX CAD is used by Renishaw to design components and GibbsCam to prepare programs offline for transfer to the Mitsubishi controls on the multi-tasking Cincom machines, which are of 12, 16, 20 and 32 mm capacity. Some have seven CNC axes with a Y-axis on both spindles, others offer 15,000 rpm at the main spindle, while several deploy 53 static and driven tools in the working area and up to three tools cutting simultaneously for turn-milling highly complex parts in short cycle times.
Chris Pockett, head of communications for Renishaw summarised, "We have standardised on Citizen sliding-head turning machines since the 1980s, when the company demonstrated what at the time was ground-breaking technology.
"The commonality of lathe layout ensures ease of training and complete flexibility for our production engineering staff to develop processes and program any machine.
"Similarly, operators are able to migrate between different turning centre groups and optimise productivity to meet our business needs. Having common platforms also benefits our maintenance operation."