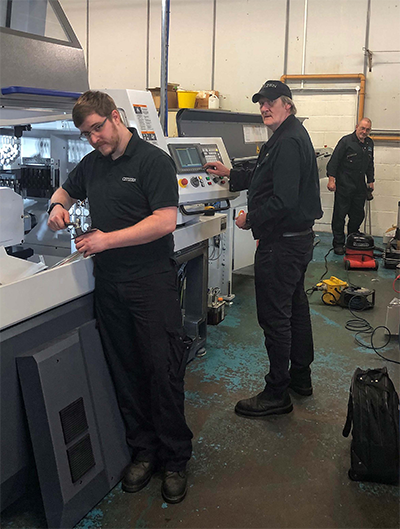 Edward James, Managing Director of sliding- and fixed-head lathe supplier Citizen Machinery UK, posted on social media on 16th March 2020 that the company is continuing to operate under the UK Government's recommended health guidelines and was available to support firms in the production of ventilator parts. He regards this as a priority following Prime Minister Boris Johnson's appeal the same day for the manufacturing community to help urgently to make 20,000 extra ventilators.
One of Citizen's nearly 4,000 followers on LinkedIn, an existing user in the West Country with five Cincom sliding-head bar autos in operation dating back to 1999, responded at lunchtime the following day. A medical equipment OEM was asking it to increase fourfold its capacity to produce critical ventilator components.
The subcontractor ordered two additional Cincom machines for urgent delivery. The first, a 32 mm capacity L32-XLFV, was installed two days later on Thursday 19th March. Citizen's engineers worked around the clock to commission the machine so it could start making the ventilator parts. The second machine, a 20 mm bar capacity Cincom L20-VIIILFV, was installed the following Friday, 27th March and was similarly fast-tracked into production.
By then, in the space of a fortnight, Citizen had received further orders from another four customers for five more machines to be delivered at short notice for ventilator parts manufacture and there is no sign of the demand slowing.
Mr James commented, "I would like to offer a big thank you to our staff and suppliers who helped to make this happen. Let's all work together to come up with solutions to this terrible COVID-19 pandemic.
"If any of our customers make ventilators, respirators, personal protective equipment or other medical items that are in high demand, we may be able to help them as a matter of urgency to manufacture the necessary components, as we have a number of fixed- and sliding-head turn-mill centres in stock ready for immediate dispatch and installation.
"We are also able to put OEMs and their supply chains in touch with a large number of our customers who can make ventilator and other medical parts using their existing plant.
"In particular, if a manufacturer traditionally relies on plastic extrusions or other bespoke raw materials that are becoming scarce, we are able to re-engineer items so that they can be made from solid bar and would prioritise this kind of requirement."