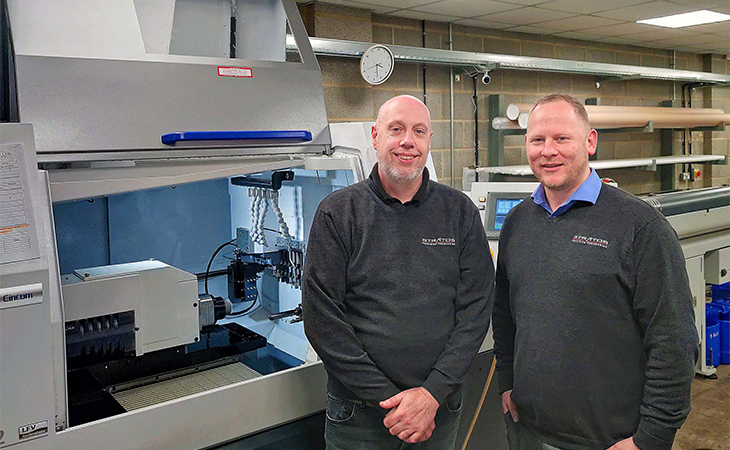 Gloucester subcontractor Stratos Precision Engineering, a majority of whose business comes from machining plastics, has strengthened and diversified its turning department with the addition of its first sliding-headstock lathe, a Citizen Cincom L32-VIIILFV. Installed in September 2019, the twin-spindle, 35mm capacity, bar-fed turn-milling centre joined an already impressive plant list of five fixed-head, single-spindle chucking lathes for turning parts up to 650mm in diameter.
Purchase of the 7-axis CNC Swiss-type lathe was part of an investment of more than £1 million since the fourth quarter of 2018, which has also seen the arrival in Gloucester of a new big bore lathe and a 3m x 2m automatic tool change CNC router as well as refurbishment of the 8,000 sq ft premises. During the same period, the number of staff has doubled to 16 and in the last financial year, turnover increased by nearly 50 per cent over the previous 12 months.
Stratos' managing director Jonathan Caple said, "For some years we had been looking at buying a bar-fed lathe to increase our competitiveness, win new business and enter new industries by machining larger quantities of parts with tighter tolerances. We favoured the sliding-head type over fixed-head lathes, as the short axis movements lead to higher productivity.
"The twin-spindle configuration and extensive driven tooling on the machine means one-hit production often supersedes two or three operations on different machines.
"However, to reap the full benefits of the investment, we need to be able to leave the machine to run 24/7 either unattended or with reduced labour overnight to maximise production output.
"That was previously impossible for us due to the stringy swarf that is produced when machining plastic, which regularly needs to be manually cleared by an operator."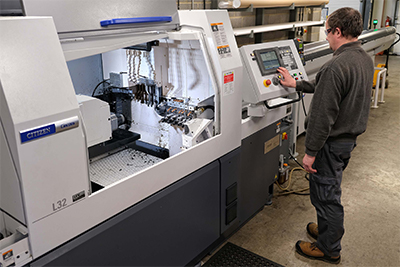 The situation continued until 2016, when Citizen invented and patented its LFV (low frequency vibration) software. Part of the operating system in the Mitsubishi control of Cincom machines, and switchable on and off if required during the program, it vibrates the servo axis in the cutting direction so that the tool tip leaves the surface of the material being machined for regular, ultra-brief periods.
The effect is to break the long strands of swarf normally generated when turning plastics into short lengths of just a few millimetres, preventing it from birds-nesting in the machining area and melting back onto the workpiece, which normally means scrapping the part.
A recent trend in the subcontractor's business has been a shift to machining more metals, notably aluminium for a large packaging machinery contract but also ferrous metals including stainless steel. This material also results in stringy swarf forming around the tool and workpiece and therefore benefits greatly from using Citizen's chipbreaking software.
Mr Caple and Stratos' co-owner, operations director Mark Vine, recognised how beneficial LFV technology would be for the business when turning plastics. Unlike metals, whose finish can be adjusted by fettling after machining, this is not practical with plastic as it needs to come off any machine tool in a finished condition.
The importance of improving turn-milling efficiency to increase competitiveness was reinforced when Stratos was required to produce 2,000 parts over a short period and the existing machinery would only achieve 400 per day. However with the new sliding-head machine and LFV technology, Stratos is now able to produce the 2,000 parts in 48 hours.
With a new sense of urgency, the directors' research took them to MACH 2018 and to online testimonials from other users. A series of demonstrations at Citizen's technical centre and showroom in Brierley Hill decided the directors in favour of LFV over other chipbreaking methodologies that involve macros in the program. Additionally, as Mr Caple pointed out, Cincom machines are built from the ground up to withstand the high-frequency, low-amplitude vibration caused by the intermittent, chip-generating cutting action.
The transition on the shop floor at Stratos to the new turning technology, as well as to the first Mitsubishi control on site, has been seamless. One of the sliding-head lathe operators, who normally runs five machining centres at the Gloucester facility, quickly picked up programming of the L32 using Citizen's Alkart Wizard off-line software. He and others received two days' instruction at Brierley Hill, followed by a week of on-site operator training. In the period from machine installation to the end of January 2020, more than 30 jobs had been produced on the new lathe, which included some around-the-clock running.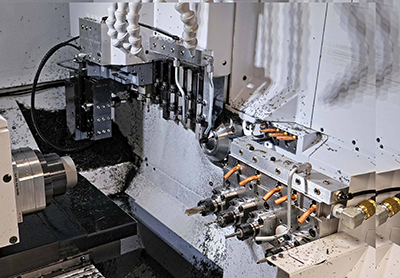 A major benefit of a twin-spindle lathe is the ability to produce components machined at both ends in a single cycle that would otherwise require two separate operations. This is assisted by the availability of a multitude of tools including driven cutters that enable the inclusion of extra operations such as deburring, eliminating further subsequent processes.
Speed of production is consequently much higher on the bar-fed Citizen compared with the fixed-head chuckers. For example, a 400-off contract that used to take a full day is now finished in a couple of hours on the slider. It also means that Stratos often manufactures in bulk, as the bar does not need to be changed as frequently as for multiple jobs. Stratos can now run, say, 1000-off, deliver 400 to the customer and stock the remainder on consignment. The customer benefits through more flexible supply and the certainty of prompt deliveries, while Stratos gains through more economical cost-per-part manufacture, which is passed on to the customer through improved rates and prices.
Another recent example of accelerated production was the machining of 5,000-off steel pins for a chain conveyor, which was completed in five days working a single shift. The job would previously have needed two operations on a pair of chuckers requiring two operators. Either the contract would not have been economical or the margin would have been unacceptably small.
Mr Vine concluded, "The accuracy and surface finish we are achieving on the slider are fantastic.
"We recently ran the machine unattended around-the-clock with LFV, with coolant running to keep the temperature stable, and produced 3,000 Ultem® Polyetherimide thermoplastic parts for a customer in the flow control sector.
"All of them were within the required -0 / +0.05 mm tolerance band, which is impressive and can be difficult to achieve in this material, without having to make any adjustments whatsoever to the machine.
"Overall, our new machinery has enabled us to be a more competitive subcontractor for plastic and metal machining and is contributing towards the impressive growth of our business."