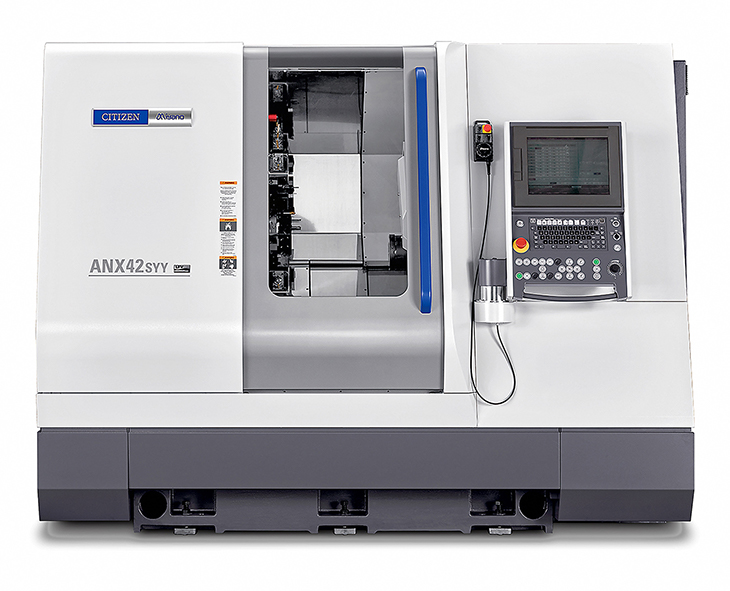 The first fixed-head lathe in Citizen Machinery UK's Miyano range to have the company's patented LFV (low frequency vibration) chipbreaking software in a Fanuc control system is the new, 42 mm bar capacity ANX-42SYY. It features 10 CNC axes including a ±35 mm Y-axis on both the upper and lower turrets in addition to X- and Z-axis movements, enabling the production of complex components to tight geometrical tolerances.
The new, compact mill-turn centre is ideal for OEMs and subcontractors in Britain and Ireland keen to leverage the quality and productivity of a Miyano lathe and at the same time standardise on Fanuc controls on their shop floor for the sake of operator familiarity and compatibility with other machines.
LFV involves synchronising the rotation of the spindles with high-frequency oscillating motions of the tools in the X and Z axes to break what would normally be stringy swarf into manageable chips that can be disposed of easily. During turning and drilling, swarf is prevented from entangling around the component and tool, which would otherwise risk damage to both and is time-consuming to remove. Machine stoppage for swarf clearance is not needed, even when machining such materials as stainless steel and plastics, so productivity levels can be raised.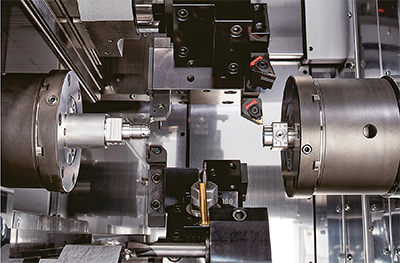 In addition to LFV software, which is programmable via G-codes in the part program, the 15-inch XGA (extended graphics array) touch panel Fanuc 31i control features a new Citizen HMI and incorporates the company's multi-axis technology. It allows 3-axis simultaneous cycles, double Y-axis cutting and superimposed machining whereby three tools can be in cut at the same time thanks to X-axis movement of the sub spindle. Metal removal rate is therefore maximised and the technology also helps to share operations between the two spindles more evenly, all designed to increase production efficiency and throughput.
The 6.2-tonne machine occupies only 2,650 mm x 1,630 mm of space on a shop floor. Both main and sub spindle have a bar capacity of 42 mm diameter and are powered by 11 kW / 6,000 rpm built-in motors. The turrets have 12 live tool stations each rated at 6,000 rpm / 2.2 kW / 20 Nm. Rapid traverse rates are fast at up to 30 m/min, again with high productivity in mind. This has been achieved by adopting linear guides in all axes. Commonality of tool holders with Citizen's popular BNA range of Miyano lathes leads to cost savings for existing users of the supplier's equipment.
The only other LFV model in this fixed-head lathe range is a single Y-axis model of the same bar capacity with a Mitsubishi control, although the chipbreaking software has been extensively rolled out across six of the Japanese manufacturer's Cincom sliding-head mill-turn centres.