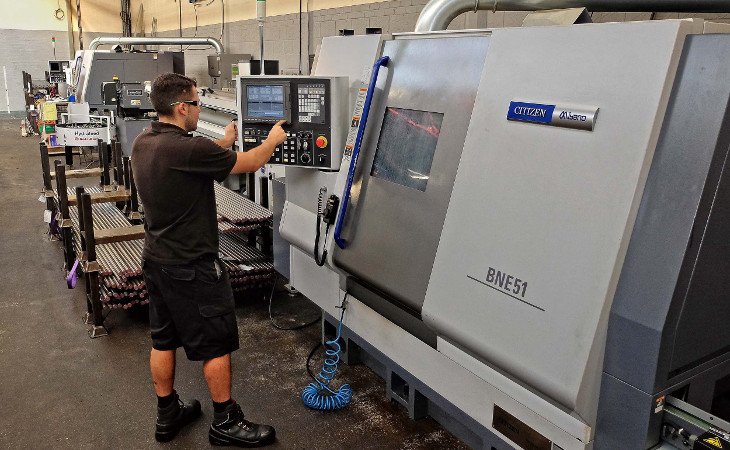 A second pair of Miyano BNE-51MSY turn-mill centres from Citizen Machinery UK has been installed at contract machinists Unicut Precision, Welwyn Garden City. Joining two identical twin-spindle, twin-turret lathes with live tooling and a Y-axis on the upper turret supplied at the end of 2017, they form the mainstay of highly efficient production of complex components for the hydraulics industry, which accounts for a large proportion of Unicut's business.
Established in 1990 by 24-year-old Jason Nicholson and a partner, who has since left the company, in a double garage in East Barnet with £5,000 to spend on second-hand manual and cam-controlled machines, Unicut has been a turned parts subcontractor for most of its existence, progressing to CNC turning in 1993. However, in 2017 the company diversified into prismatic machining with the purchase of a multi-pallet machining cell, followed quickly by a second. A third cell is now on order for delivery later in 2019, which will be a record year for capital investment at £2.3 million.
Over the years, Mr Nicholson has bought 104 CNC lathes, 93 of which were either Citizen Cincom sliding-head models or fixed-head lathes from Miyano, which merged with Citizen in 2011. Today, Unicut operates 22 Cincom lathes with up to 13 CNC axes, 80 cutting tools and 2,000 psi coolant pressure, as well as eight Miyano machines deploying up to 72 cutters. The machines are usually replaced every five to seven years to take advantage of the high residual value of the lathes at that age.
While turning machines have been sourced mainly from this supplier, each purchase is rigorously analysed by Mr Nicholson with respect to machine cost and achievable cycle times to ensure lowest cost per part produced and the most rapid return on investment. Ease of machine integration and use and the desired quality of component are also paramount considerations. Additionally, prompt provision of service is an important deciding factor.
1999 saw the first Cincom sliding-head lathe delivered to Unicut, a 12 mm bar auto, and within a year three more were installed followed three months later by a 32 mm model. The first Miyano appeared on the shop floor in 2002. The CNC lathes replaced cam-controlled turning machines, which had all gone by 2003. CNC equipment was by then achieving similar cycle times to cam-type lathes, with the added advantages of higher quality and unattended running including overnight, leading to much higher profitability.
To distinguish Unicut from other subcontractors, Mr Nicholson decided early on to adopt a different business model by approaching OEMs, analysing their main cost drivers, investigating the possibility of re-engineering components for more efficient production, establishing desired cycle times, identifying machine tools needed to machine components within those times and then proposing to make the required capital investments, subject to the manufacturer's commitment to a fixed-term contract. Strategic supplier status is what Unicut seeks in its business relationships with customers and 80 per cent of throughput at the Welwyn Garden City factory is produced on this basis.
For machining larger diameter parts, a 51 mm capacity Miyano costs about the same as a top-end 32 mm Cincom slider. Unless a high component length-to-diameter ratio dictates otherwise, Mr Nicholson prefers the fixed-head option based on a number of factors including rigidity, thermal stability, value for money and speed. Bar capacity is greater, offering more flexibility; spindle power is higher, leading to increased productivity; cycle times are comparable; access is easy for setting up, despite the compact machining area; and the Mitsubishi control supports superimposed machining whereby three tools can be in cut at the same time, a facility regularly used at the Welwyn Garden City facility for elevated levels of productivity.
Once a BNE-51MSY is set, Mr Nicolson said that it will produce a run of say 1,000 components to very high accuracy without having to touch the machine by the simple expedient of including macros in the program to offset tools automatically after a predetermined number of parts have been produced. Tolerances down to ± 2 microns can be held and surface finish is described as impeccable. He favours the Mitsubishi CNC system fitted to Miyano and Cincom lathes due to its flexibility and ease of operation using the drop-down menus and comprehensive graphical support. Citizen's off-line Alkart Wizard software helps to ensure jobs are quickly into production. However, for larger production runs, time can generally be cut from a cycle by tweaking the program at the control.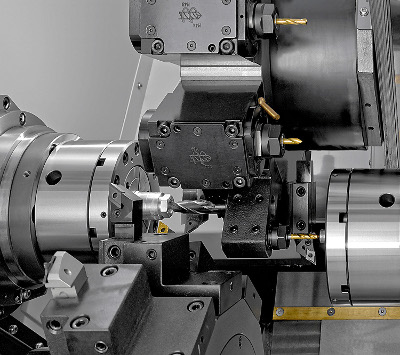 Citizen's operating system in the CNC system fitted to one of Unicut's Cincom sliders features patented LFV (low frequency vibration) software that operates in two CNC axes simultaneously, allowing stringy swarf to be broken into shorter chips of a length to suit the material being cut and the swarf conveyor. The feature is popular with operators, as it enables uninterrupted production without having to stop the lathe due to birds nests clogging the workpiece and tools.
Citing a 320 stainless steel part that was previously impossible to run unattended even during the day, yet is now routinely left to run lights-out with LFV, Mr Nicholson said, "The feature is easy to use and does not require any special skill set. The software can be switched on and off, either manually or within a program, and parameters can be adjusted. It is especially good for processing plastics unattended as well as other difficult-to-machine metals such as Duplex and titanium. It just works."
In conclusion, he shared his thoughts on the current buoyancy of the subcontract machining sector due to the weakness of the pound against overseas currencies. It has cut 20 per cent off the price of components that Unicut exports and has boosted turnover, despite raw material and indeed the equipment on which to machine it being more expensive to buy. The firm's first order from China was delivered in August this year and exports overall currently account for 40 per cent of turnover, up from 10 to 30 per cent in previous years.