Building on the strengths of previous generations of Miyano fixed-head mill-turn centres, the BNA-42SY is Citizen Machinery's latest addition to the range. The CNC lathe is the first BNA model to have a 12-station turret giving ± 35 mm of Y-axis movement, all tool positions now being live, and a new design that lends itself to easy automation.
Compared with current BNA models, machining efficiency has been upgraded by more powerful spindle motors, which are rated at 7.5/5.5 kW (15min/cont) for the 6,000 rpm main spindle and 5.5/3.7 kW for the 5,000 rpm sub spindle. Acceleration and deceleration are quicker on both spindles, improving productivity further by minimising idle times.
The machine's rigid bed, the weight of which has been greatly increased to 1,823 kg, brings thermal control advantages and more capacity to house a larger coolant tank. The base casting has been prepared with space at the right hand side for robotic load / unload equipment. If a user intends to take advantage of automation, the machine can be supplied with a swarf conveyor that exits to the rear as an option.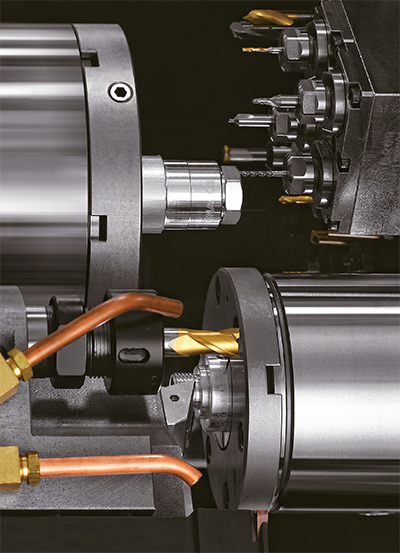 The automation may be employed solely for unloading components that have been mill-turned from bar stock up to 42 mm diameter, either directly from a spindle or via a parts catcher and conveyor. Alternatively, or in addition, it may load and unload billets or near net shape workpieces like castings or forgings up to 135 mm in diameter. A workpiece stocker is positioned at the right hand side of the machine to accommodate the finished components.
Mounting points have been included to provide an option to add an overhead gantry if only chucking is to be carried out, in which case a raw material stocker can be positioned to the left of the machine in place of the bar magazine. For complete flexibility in layout, top shutter and auto door options are offered.
At 285 mm, the turret's Z-axis travel has been increased by more than 20 percent, expanding the machining range of this compact, space-saving lathe. The turret and spindles are mounted on hand-scraped box slideways for improved rigidity and damping characteristics, leading to high metal removal rates, prolonging tool life and maintaining high accuracy.
The diameters of the X- and Z-axis ballscrews have been upsized from 25 mm to 32 mm, increasing rigidity further. Forced lubrication is provided to the ballscrews in all axes, the BNA-42SY being the second Miyano lathe to benefit from this feature.
The latest FANUC 0i-TF Plus CNC system with 10.4″ colour LCD screen controls the machine. Cutting times can be shortened by simultaneously completing complex reverse-end turning and milling at the sub spindle while front-end machining is ongoing at the main spindle, despite there being only one turret. It is achieved by superimposed machining, where the sub spindle tracks the turret and compensates for its movements while it is cutting at the main spindle, enabling a machining cycle on a parted-off component to be executed using tools mounted on the reverse face of the turret. This can be accomplished due to the ability of the sub spindle to move in the X-axis.
As with all modern lathes from Citizen Machinery, both Miyano fixed-head and Cincom sliding-head models, the BNA-42SY is an environmentally friendly machine. Use of an inverter controlled hydraulic unit results in a large reduction in power drawn. Standby power consumption is just 0.661 kW, as servomotor readiness is automatically turned off when it is not needed, for example during program editing. Overall energy consumption can be visualised via a power monitor window on the control screen.