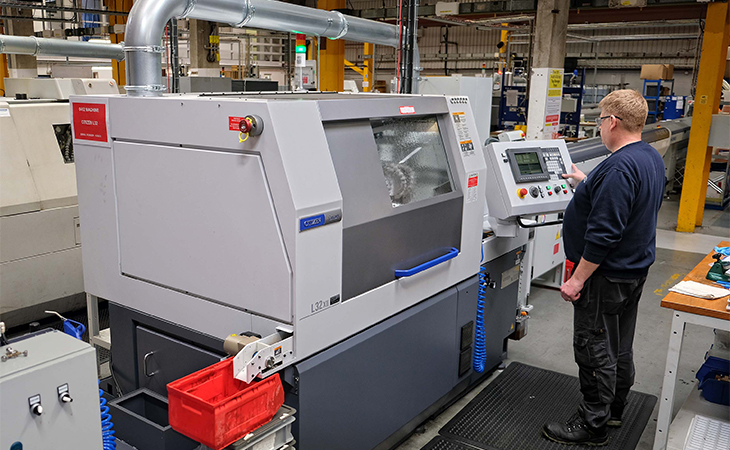 Located in Chard, Somerset, subcontract machining firm Metaltech Precision has increased the number of sliding-head mill-turn centres on its shop floor from 6 to 13, of which 10 are Cincom models from Citizen Machinery UK. It follows the purchase by the company's owner, Expromet Technologies Group, of another subcontractor nearby, NC Precision, which specialised in this area of production.
The strategic acquisition in May 2022 underlines the intention of the UK casting and machining group to strengthen its Swiss-type mill-turning capability. Nevertheless, Metaltech is also strong in fixed-head turning as well as prismatic metalcutting on numerous machining centres, there now being a total of 58 CNC machine tools in operation, providing an extensive suite of machining capabilities to meet customer needs.
The latest sliding-head lathe was installed in September 2022, having originally been ordered by NC Precision. It is a Cincom L32XIILFV capable of mill-turning parts from bar up to 35 mm diameter. Notably, the machine has LFV (low frequency vibration) functionality. It can be switched on by G-code during sections of a machining cycle that would normally result in stringy swarf being generated. Instead, it is broken automatically into chips of manageable size that fall away from the machining area for easy extraction.
Steven Ward, operations manager at Metaltech said, "We were already familiar with and impressed by LFV, having installed a smaller Cincom L20XIILFV four years ago to simplify the production of a particularly difficult component.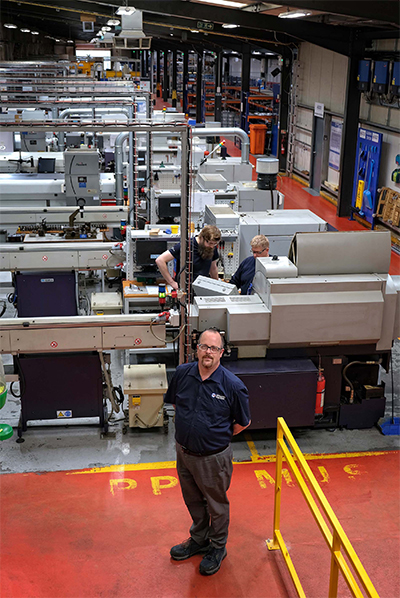 "The ongoing job involves machining a tough, malleable iron that has a high tendency to cause bird's-nesting when turned, but LFV completely solves the problem by allowing the chipping to be controlled.
"It means that we are able to leave the lathe running unattended for long periods, whereas before an operator needed to be in attendance virtually all the time to constantly clear away the swarf.
"This labour cost element, which has now been removed, was contrary to the whole concept of bar turning, yet was necessary to maintain consistency of production and minimise scrap."
During the acquisition process of the L32XIILFV, the order was placed by NC Precision and honoured by Expromet. It is a clear sign of the group's ongoing commitment to development and continual investment in up-to-date plant, allowing Metaltech to remain at the forefront of technological advances and providing extended capabilities along with capacity.
The purchase of the second LFV lathe last autumn, with its chipbreaking function, facilitates more options for fulfilling contracts that may come along involving titanium, nickel alloys or other metals that tend to result in stringy swarf. Until now its full potential has not been utilised, except to assist the smaller LFV lathe in producing more of the malleable iron components to cope with rising production volumes.
Another area where the L32XIILFV has benefited Metaltech is in taking the load off a higher specification M-type 32 mm capacity Cincom on site that incorporates cutters in a turret. The gang tool-only L-type machine with its more nimble axis motions is quicker at producing relatively simple parts, leaving the M32 free to concentrate on more complex work.
One example was the transfer of production from the M32 to the L32 of a brass component on which only about 10% of the cycle involves turning operations, the remainder being milling and drilling. Although the spindle drives and driven cutter stations in the gang tool carrier lathe are a little less powerful than in the turret-type machine, it was nevertheless possible on the L-type lathe to produce the part from free-cutting brass in four minutes and four seconds, 20 seconds faster than on the M32.
Mr Ward explained, "Although this represents a reduction of only 7 to 8%, the batch size was 6,000-off, so a significant saving was made. Measures like this help us to maintain our reputation as a rapid response, short lead-time service provider with excellent on-time delivery results.
"It also helps us to control costs, even on parts like this that are predominantly prismatically machined on a driven-tool lathe yet require 20 µm positional tolerance to be held in certain areas, ensuring we provide best value and quality to our customers."
Metaltech has been using sliding-head lathes from Citizen since 2008, when it installed its third machine, a Cincom A20. Purchase of another two and acquisition of seven more from NC Precision has brought not only increased capacity, but knowledge from the latter company as to how to lower production costs on the more recently installed sliders on which it is possible to swap the guide bush in and out in about half an hour.
Historically, the technique had not been available to the subcontractor owing to the age of the first two Cincoms and the dedication of the third to a single, awkward job. However, the newer lathes from NC Precision do incorporate a swappable guide bush.
When removed, it allows less expensive bar to be turned and results in much shorter rest lengths when the material has been used up, leading to significantly more economical production of shorter components up to typically 2.5 times their diameter. For the right type of work, Metaltech will harness this benefit in the future.