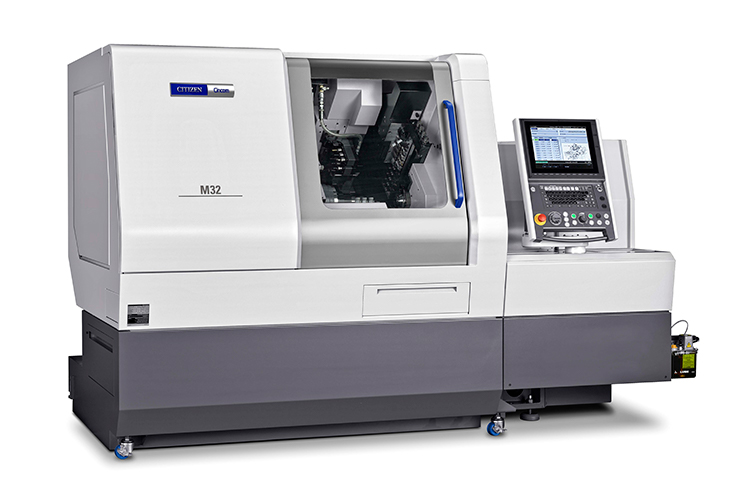 In response to feedback from users, Citizen's M32 sliding-headstock lathe, a popular model in the Japanese manufacturer's range capable of economical machining of components in small or large batches, has undergone a fundamental makeover in its fifth design iteration to the extent that half of its constituent parts are new. It is also considerably more robust, with a bed 500 kg heavier than that of its predecessor, bringing the installed weight to 4.3 tonnes. Availability of the 10-axis Cincom M32-VIII in the UK and Ireland is through Citizen Machinery UK.
The 10-station turret, which runs on hardened box ways, incorporates a new tooling system employing a single, heavier duty, 2.2 kW drive to the live cutters. Only the selected tool rotates – a world first for Citizen. The effect is to suppress heat generation and vibration, enhancing machining accuracy and surface finish. Power consumption is reduced and there is less the wear on gears and bearings. The latter have been strengthened, providing extra rigidity to withstand torques twice as high as on the previous machine model, leading to greater productivity.
The gang tool post has been equipped with 1.5 times faster live tools powered by a 2.2 kW motor, as well as a programmable, 50 rpm B-axis to enable simultaneous machining in five CNC axes rather than four; while the back tool post with Y-axis now has adjustable-angle tooling. Both features enable production of more complex parts. Three tools may be in cut at the same time, supported by the Mitsubishi M850W control with 15-inch touch-screen, shortening cycle times and raising productivity.
The 8,000 rpm main spindle has been upgraded to 5.5 / 7.5 kW and the counter spindle is of the same power, representing a 2.5-fold increase. It improves the flexibility with which front-working and rear-working cycles can be shared between the two spindles. The Z-axis feed drive has been uprated to 1.5 kW for more powerful cutting performance, the 32 m/min rapid traverse rate remaining the same. New also is the optional possibility to swap over in half an hour to use the machine in guide bush-less mode to reduce remnant length when turning shorter components up to 2.5 times their diameter and to enable the use of cold drawn bar up to 38 mm diameter.
To improve operability and visibility and reduce set-up times, the machine door and its window have been enlarged by 65 per cent. Other enhancements include reduced overhang of the counter spindle headstock on its slideway to provide more robust support, larger and more rigid ballscrews, and 30 per cent lower air consumption.
The lathe's ecological credentials, as with other Citizen machines, are impeccable. The M32 is an environmentally friendly product that has undergone stringent assessment by the manufacturer. The use of easily recyclable materials and avoidance of hazardous substances are combined with Eco Function hybrid technology that automatically saves energy through the intelligent use of power during non-cutting periods. Its effectiveness can be monitored on a control screen window that shows graphically the present, maximum, cumulative and historical power consumption values.