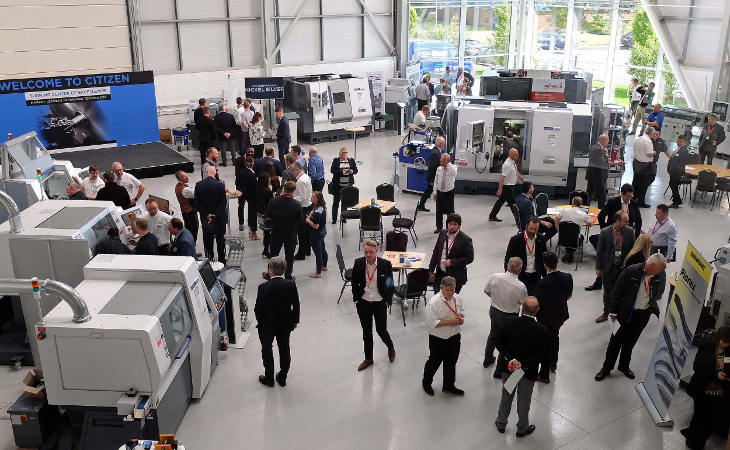 Nine orders to the value of £2 million were placed at Citizen Machinery UK's first open house at its new Midlands turning centre of excellence in Brierley Hill. The order total is likely to double in the immediate aftermath of the event. Attendance over the three days (14th, 15th and 16th May) exceeded 300, a record number. Visitors looking to upgrade their sliding- and fixed-head CNC turning capacity were welcomed from OEMs and subcontractors throughout the UK and Ireland, as well as from continental Europe.
Four products were launched, all of which benefit from Citizen's patented LFV chipbreaking software. They were the new L32-X, L32-XII and D25-VIII Cincom sliding-head bar autos on which the software is optional, and the Miyano BNA-42GTY, the first Citizen fixed-head lathe to have the addition of LFV in the operating system of the Mitsubishi control.
A further 11 machines were on display cutting metal, one of which, a Cincom L20, was equipped with a low-cost, automatic billet load/unload system instead of a barfeed. Most of the lathes had a sheet attached to illustrate the annual profit achievable if a customer purchases the machine and produces the demonstration part over 10, 15 or 20 hours per day. All examples showed a healthy margin.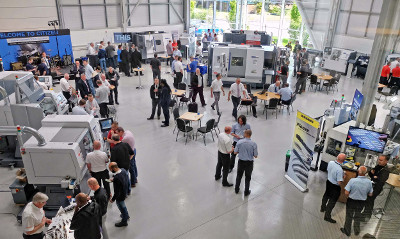 In the best case, when machining a £2 brass part in a cycle time of 40 seconds for 20 hours a day on a 42 mm capacity Miyano BNA-42S2 fixed-head turn-mill centre, subtracting the machine cost per year from the income from production of the component resulted in a profit of £881,520 per year, ignoring operating costs.
The open house featured a Made in the Midlands networking event on the last morning, in which 50 people from local member companies participated. Representatives from each firm introduced their business and learned more about Citizen and its products. Interestingly, it was revealed during the presentation by Citizen Machinery UK's deputy managing director Darren Wilkins that the revenue generated by the machine tool division of the global business has recently overtaken that of the famous watches.
He was also proud to announce that sales in the UK and Ireland in 2018 were at a record high at 164 machines, propelling the company to market leader for the supply of bar turning automatics; while the first quarter of 2019 saw it also become the leading supplier of sliding-head lathes in UK as well as the whole of Europe. Much of this success is down to the introduction of LFV software on the Cincom platforms.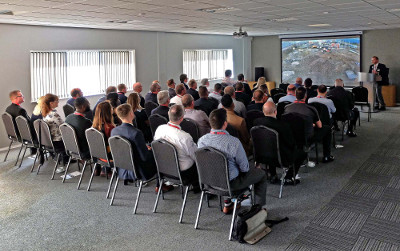 A party was held on the Wednesday evening to celebrate the opening of the new premises, at which Citizen watches were presented to consultants involved in the design and construction of the building extension. Entertainment was provided by a band whose Birmingham-born lead guitarist Ian Parker has established himself as one of the UK's foremost blues artists.
Supplier company presence at machine tool open houses is not new, but few host as many as this event. Twenty firms were represented and unusually, four of them have permanent display booths adjacent to the new showroom: Citizen Finance, headed by John Lane; workholding specialist Hainbuch; tooling supplier Floyd Automatic Tooling; and 1st Machine Tool Accessories, which in addition to selling workholding equipment is the UK agent for Iemca bar magazines, which are fitted to most Citizen lathes.
Other equipment providers were: Arno (parting-off and grooving tools), Bison (chucks, tooling and workholding), Blaser Swisslube (cutting fluids) and its UK supplier Jemtech, Cromar Metal Products (swarf conveyors), Filtermist (oil mist extraction), Firetrace (fire suppression), Guhring (cutting tools), Heimatec (tooling systems), Hydrajet (high-pressure coolant systems), J&S Engineering (swarf processing), LNS (bar feeding and swarf management), Mikron (automation and tooling), NTK Cutting Tools (tooling), Sandvik (tooling), Wieland (copper and copper alloy materials), and Wogaard (coolants).