With a previous history in the tooling sector having the role as key account manager, Neil Vine 42 has been appointed by Citizen Machinery UK (CMUK) to cover the central Midlands area east of Sheffield up to Lincoln and to Hitchin in the south representing both the Citizen Cincom sliding head and Miyano fixed head turn-mill centres.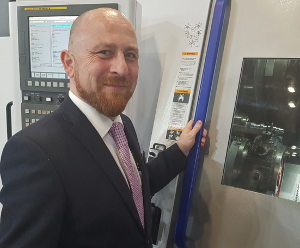 Said Deputy Managing Director Darren Wilkins: "Neil brings a strong commercial management and customer development history to CMUK. He has a long history in the tooling sector so will be a valuable asset working closely with customers and our applications team in maintaining our 'cost-per-part' purchase justification operations."
In previous roles, Mr Vine has been involved in managing and creating a strategy for regional tooling sales while working on key accounts involving UK project based tooling operations with responsibility for over £1 million turnover from just three customers.
He said: "With my commercial background and process knowledge I was deeply involved in educating buyers and negotiating price structures especially involving exotic material machining in the aerospace, power generation and mining sectors."
As part of his working background, he spent four years being relocated by his tool sales employer to Australia to re-establish the company's tooling operation before returning to the UK in 2014.