After ending my 2018 season early due to a 10-cm stress response in my femur, I thought it was time for a change, and I needed to rethink my next season. After a couple of weeks, I decided it was time to move home and find a training schedule that could prevent the repeat of injuries that had been holding me back on and off for the past two and a half years. It was tricky coming away from Loughborough, I knew I would miss the facilities, the coaches, and available training partners, but for my health and wellbeing, it was the best option at the time. My 2019 winter training started well, and I ran my fastest 5 miles at the Ryton Pools Country Park 5 mile race running 30.38. After a promising start, I was hoping for a good season.
The plan was to complete two Xterra races at the start of the year, the first one being Cyprus. It was all booked, and I was ready to race, but unfortunately, I dislocated my shoulder just a week before. It was my fault, and I had no one else to blame but myself. I love mountain biking, and something in my head told me it was ok to do jumps a week before racing. After having my shoulder put back into place there was still something not quite right, I had limited motion in my arm, and I couldn't lift it, there wasn't any pain there, so I knew something wasn't working.
With the Xterra World's only a month away I went to see a specialist and unfortunately, I had nerve damage which meant my deltoid wasn't working. He wasn't sure how long it was going to take to heal, but he gave me some exercises, and I made sure I did everything possible to try and wake the nerve back up. I've never had such a weird feeling when I went swimming, I wanted to swim and wanted to lift my arm out the water, but I just couldn't. The positive was every time I went swimming it got a little bit easier and a week before Xterra World's the specialist told me I could go, but there was a high chance of dislocation again, and also my nerves weren't fully working.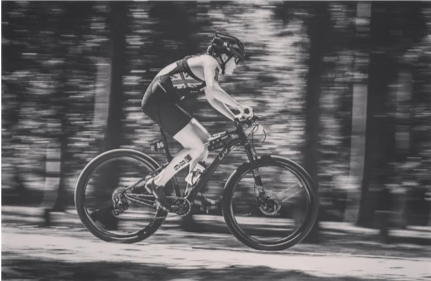 Racing world's cross triathlon was one of my main goals this year, but unfortunately, I couldn't race the way I wanted to, although I couldn't compete at my full potential I was just happy to be on the start line and be back in GB suit. I have to thank Dr Salas for all the work he did with me and my shoulder, I have now fully recovered, and we have decided that he will not operate on the joint due to the strength coming back. World's cross triathlon was a fantastic experience I hope one day I can improve on the result I had and be back on the cross-triathlon scene, but for the rest of the season, the focus was on sprint Triathlon.
After coming back from Worlds, I missed the first two races of the British Super Series because my shoulder was still repairing from the nerve damage and my swim performance wouldn't be what it needed to be. My first race back was Blenheim Palace, and I ended up coming out the water around 90 seconds down and lucky for me I could work hard on the bike with a few of the girls to catch the front group. I entered into the transition in firth place, and my run was a lot stronger, and I finished off Blenheim Palace in 4th place. I was happy with the final result, as I could see some progress.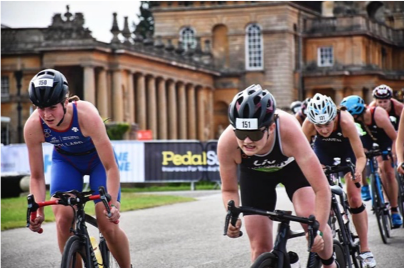 The Cardiff Triathlon was next on the list, and I knew I had to up my swim, but I had no idea it was a diving start – I hadn't dived since before I the accident, and it was probably the most scared I was on the start line! My swim had improved from Blenheim Palace. However, I was still a minute down on the leaders, so I had to work hard on the bike to catch the group of girls in front. But there was still one competitor out in front who's very strong. Unfortunately, the 8 of us went into transition together, and it finished with a running race, I finished off the competition in seventh but looking at the results from the year before my run has improved significantly in the past year, and I'm happy with the progress.
My 2019 split into two halves due to the opportunity to go to Japan with my family and walk up Mount Fuji; this was unfortunately arranged before the European qualifiers were announced. Still, I couldn't miss out on this once-in-a-lifetime opportunity to walk up Mount Fuji, and I wouldn't have changed it for the world as it was a fantastic achievement. I thank my dad and his work for the opportunity.
The week after we returned from Japan I attended my cousin's wedding. Then it was back to reality and training ready for the national relay championships. I was racing for team Nottingham as a guest, and it was a great event and also to come away with the gold was even better! Well done to all the team for their great effort. Following that, I raced another British super series competition, where I was competing in the elite race at Mallory Park. It's a great course and a great event seeing as you see all the younger up-and-coming athletes race as well as just the elite. My swimming was struggling, and I came out in the second pack. The bike pack didn't work together, and it was all a little over the place, so I made sure I positioned myself well into the transition. I tried my hardest to catch as many girls as I could but unfortunately just missed out on a podium coming forth, but to my surprise, I came third in the British super series.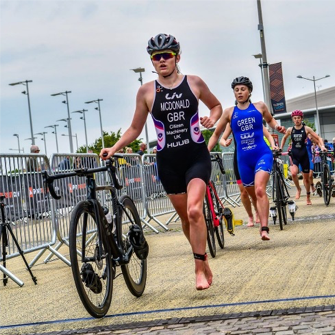 My final race of the season was Sandman Triathlon part of the Welsh Super Series, earlier in the year I'd raced at Bala Triathlon and took the win, so I was hoping to do it again. The sea was choppy, and the bike was non-drafting which paid to my strengths. However, a lot of athletes were on time trial bikes, so I had some extra work to do, but I was able to hold onto second. With a quick transition, I was off out in first and keep the lead to finish off the season with a win. I was also on TV, which was a nice change.
Looking back at the year, 2019 wasn't the season I planned but the progress I have made over the period has been significant. I hope next season I can improve on this and I aim to race the British Welsh Super Series and some Spanish and French team races. Also, if it fits in with my schedule, you may see me on the start line of maybe some extras and cross triathlon, but for now, it's long miles and wet training!
Thanks for reading, all the best,
Megan