Aerospace component manufacturer reinvents itself during the pandemic
Rugby-based subcontractor Technoset, with 70% of turnover in the aerospace sector, was not a good situation last March (2020) when COVID-19 grounded most aircraft and orders plummeted seven-fold. Towards the end of 2021, the company's production of aircraft parts is still below one-quarter of previous volumes.
With the business facing an existential crisis, managing director Kevan Kane and the firm's owners set about restructuring the operation, positioning Technoset as a solutions provider rather than a supplier of components. It also started targeting challenging contracts for the supply of tight-tolerance components to more industries, notably lasers, fibre optics and telecoms.
The success of these policies has seen the number of components going through the shop floor for the first time for both existing and new customers more than treble from 10 to 33%. A large proportion have benefited from design-for-manufacture expertise from Technoset engineers to reduce piece part costs for customers.
The first new machine tool the company has bought since the onset of the pandemic was a highly specified, twin-spindle Cincom M32-VIIILFV bar-fed, sliding-head mill-turn centre, which was delivered by Citizen Machinery UK in spring this year (2021). Replacing two smaller M12 and M16 Cincoms that were about 20 years old, it joined a previous-generation M32-VIII bought in 2017, all numbers representing maximum bar capacity. There are also eight twin-spindle, fixed-head Miyano bar-fed lathes on-site from the same supplier for turning and milling components from stock up to 64 mm in diameter.
A primary reason for acquiring the latest M32 was a need to machine complex telecoms components, in particular a family of 12 mainly aluminium connector parts for use in the defence industry. Many of them are complex, with a lot of milled detail, and drawing tolerances are below 10 microns.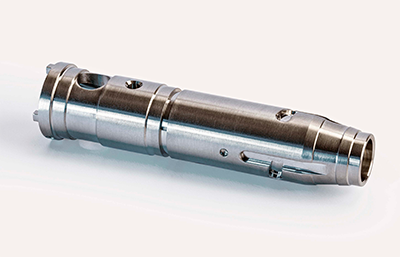 That level of accuracy is achieved reliably, even when running lights-out, partly because the lathe incorporates Citizen's LFV (low frequency vibration) software in the Mitsubishi control's operating system. Variants of the LFV function can be called up automatically in any part program to break what would normally be stringy swarf into manageable chips. It is no longer necessary to stop the lathe to untangle and clear potentially harmful swarf from the tool and/or component.
Productivity is therefore maximised, the operator is freed to carry out other tasks on the shop floor and the machine can be left with confidence to run unattended. The programmable chip-breaking software is not only beneficial when machining the aluminium connector parts but will also prove invaluable when Technoset restarts producing aircraft components in significant volumes from Inconel, titanium, Waspaloy, Nimonic and other superalloys, all of which tend to birds-nest when turned and drilled.
In anticipation of acceleration in the return of aerospace work, the subcontractor introduced a second shift in early September 2021. It is to ensure that contracts for aircraft components, which typically involve batch runs of 1,000 to 2,000-off, do not dominate the shop floor and dilute the production of new work that has been taken on in other industries. Consequently, aerospace work at the AS9100-accredited contract machinists is unlikely to exceed 50% of throughput in the future.
Rapid development of turning machine technology
Mr Kane commented "Citizen Machinery's M32 sliding-head lathe, the manufacturer's flagship model, has been the most important contributor to Technoset's business since we bought the first one in 2000.
"Something that has surprised me is the speed with which the machine technology has advanced. Our latest M32 is of the fifth generation, which has been beefed up and completely redesigned since we installed the last, fourth generation model in 2017.
"The result has been a step change in performance. I regard the machine as the epitome of sliding head-technology in terms of productivity, flexibility and speed. It is ideal for mill-turning high value piece parts."
Improvements to the turning centre include 1.5 times faster live tools powered by a 2.2 kW motor and a programmable, 9,000 rpm B-axis to enable simultaneous machining in five CNC axes rather than four. Combined with the back tool post whose Y-axis now has adjustable-angle tooling, it enables faster production of more complex parts. Superimposed machining allows three tools to be in cut at the same time, further shortening cycle times and raising productivity.
The 10-station turret incorporates a new tooling system employing a single, heavier duty drive, also rated at 2.2 kW, to an increased number of live cutters. Only the selected tool rotates, suppressing heat generation and vibration to enhance machining accuracy and surface finish. As nearly every part that is turned in the Rugby factory also requires prismatic operations such as milling and drilling to achieve one-hit manufacture, the improvements to the driven tool stations are of considerable benefit.
Mr Kane added, "The upgraded specification of the M32, which includes an 8,000 rpm main spindle uprated to 5.5 / 7.5 kW and an identical counter spindle, much more powerful than before, means that the machine is able to match the speed of the M12 and M16 that it replaces.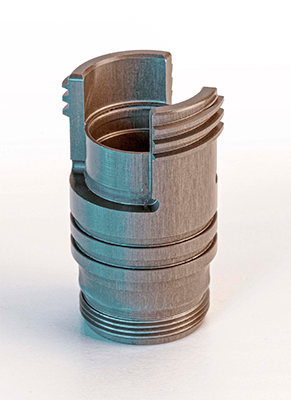 "Normally, to achieve cost-effective levels of productivity when mill-turning components from smaller diameter bar, you would not put that work on a lathe with double the bar capacity or more, as you would expect it to be slower.
"That is not the case with the fifth generation M32, which means we can consolidate jobs onto one platform. The reduced mix of machines on the shop floor promotes knowledge transfer and helps to mitigate manufacturing's industry-wide skills shortage problem."
He singled out Citizen Machinery UK's engineering backup as worthy of special mention; it is applicable not only to Technoset but also to group member Technoturn, St Leonards, where a similar number of Cincom and Miyano lathes are in operation. Responsive service is appreciated, but especially beneficial is the application support.
Recently, Technoset found itself pitching for work and were stuck on a cycle time of 90 seconds, which was too long to achieve the target price. Mr Kane contacted the supplier's Bushey headquarters by email and an engineer came back within 24 hours with an application-optimised cycle time of 60 seconds. The one-third decrease resulted in the subcontractor winning the new business.
Looking to the future
Focusing on digitalisation and automation, Technoset's plans are wide-ranging. The turning side of the business, which currently accounts for around two-thirds of turnover, is already automated through the use of bar magazines. The milling side will take a significant step forward in spring 2022 with the installation of a 5-axis machining centre with built-in robotic component load/unload and on-board part probing. It will be the first automated prismatic component manufacturing cell on-site.
Helping to fund the purchase is a £100,000 Aerospace Unlocking Potential (Aerospace UP) grant recently awarded to Technoset. Delivered through the University of Nottingham and the Midlands Aerospace Alliance, the initiative aims to support the aerospace supply chain in the Midlands.
Part of the money will also be spent on acquiring a CADCAM suite for off-line programming, a function that is currently performed mainly by manual data input at the machines. Consideration will also be given to investment in laser cutting, part marking, a painting facility and special deburring equipment to achieve the high standards demanded by the aerospace and laser industries.
As any manufacturer knows, use of the best machine tools comes to nothing without skilled people to run them. Mr Kane ensures that highly trained setter-operators are always coming through the system by continually taking on apprentices. Thre are progressing through a four-year program with Midland Group Training Services and two are aligned with the programme delivered by the Manufacturing Technology Centre.