With the recent addition of an own product involved with fire suppression to its highly successful sub-contract machining operation, HPC Services of Ilkeston, Derby, has ordered the latest Citizen Cincom L20-VIII LFV turn-mill centre. By including Low Frequency Vibration (LFV) machining technology in the specification, Managing Director of HPC Paul Cobb maintains this will give his business a lead in the market by revolutionising his production of materials such as 321 corrosion resistant and 416 chromium steel alloy stainless steels and plastics type materials.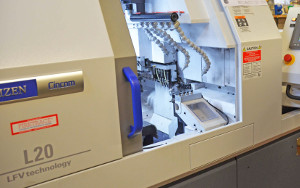 Said Mr Cobb: "This machine will enable us to competitively quote on new work which we would normally decline and will give us additional capacity as we build up production on our in-house developed water-based fire suppression system."
HPC has currently 10 Citizen Cincom machines installed, with the last Cincom L12-VII currently very competitively producing components as part of a 40,000 a year contract. The plastics tube, 110 mm in length is turned and a hole produced through its length to a concentricity tolerance of 0.05 mm TIR. Said Mr Cobb: "So productive is the machine that we have reduced our cycle time from over a minute to just 12 secs."
The ability for the operator to control the size of chip produced eliminates problems such as 'bird-nesting', improves depth-of-cut and surface finish, delays the onset of built-up edge on tooling and dramatically aids the management of swarf. It can be applied to turning, profiling, facing, taper and interrupted cutting sequences plus drilling and even thread cutting over a wide range of materials from plastics, aluminium and copper to high tensile stainless and other high grade steels.
Mr Cobb said: "Swarf control is a bugbear on certain materials and needs constant attention to prevent birds-nesting and swarf being picked-up with the part as it is transferred to the sub-spindle of the machine. On some highly critical workpieces we even have to allow for a grinding operation to remove marks caused by swarf. This is where LFV will transform our operations."