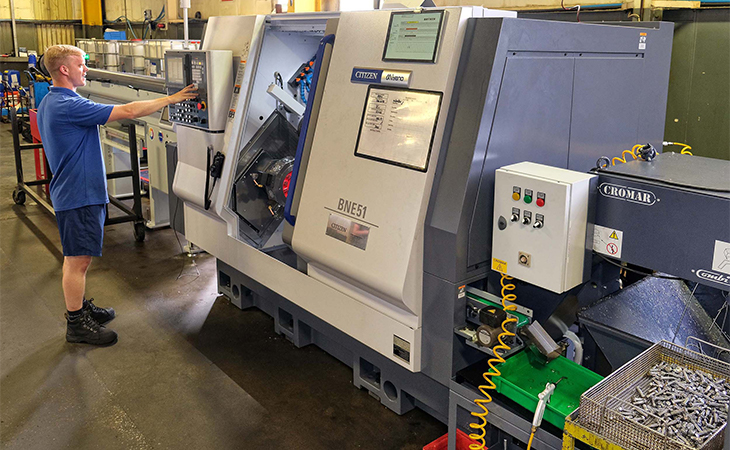 In August 2020, Merseyside subcontractor Bryken took delivery of its sixth Miyano BNE-51MSY turn-mill centre, having bought its first as recently as June 2018. Operations director Phillip Taylor says that regular investment in new plant is key to thriving in a competitive global marketplace and he makes sure that no machine tool stays on the shop floor for more than 10 years. The company, which has 95 employees and a £10 million annual turnover, derives 40 percent of its business from the oil and gas industry and is also a major supplier to the high-voltage power sector, amongst others.
Citizen Machinery UK, which supplied the fixed-head Miyanos, is also the source of four Cincom CNC sliding-head lathes currently on site, which have been in use at the Prescot factory since the mid-90s. A dozen older models, which took over from six times as many cam autos, have all now been replaced. It leaves three 32 mm capacity Cincom sliders installed since 2014 and a more recent 20 mm capacity model that uses Citizen's proprietary LFV chipbreaking technology.
Mr Taylor, son of one of the company founders, runs the subcontracting business together with his brother Stewart and sister Natalie Lund. He explained, "Ninety percent of our turnover comes from producing precision turned parts, many of which require a lot of prismatic machining as well, so choice of turn-mill centre is crucial to our success.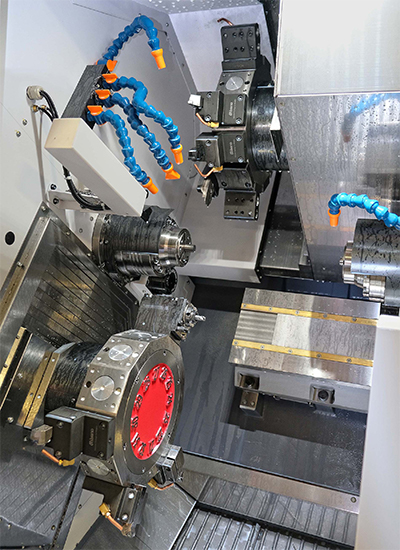 "We started to upgrade our fixed-head lathes by replacing them with Miyanos in 2018 in response to an upturn in demand, which gathered pace at the beginning of this year when we bought three more BNE-51MSYs in the space of two months. The 51 mm bar capacity, twin-spindle turning centre with its two 12-station live turrets, the upper one with a Y-axis, is ideal for our needs.
"It is highly efficient at balanced machining of complex routines at both spindles, so we can take chunks out of cycle times, which are between 20 and 40 percent faster than on previous lathes. It meets the increasing demand for the supply of high added value parts at competitive prices."
He added that other makes of lathe were looked at during the plant renewal process. In comparative trials, the BNE-51MSY offered the quickest TAKT times and was also much better value for money than others he considered. The lathes were also shown to hold 20 microns total tolerance easily on machined dimensions.
One reason for the lathe's impressive speed is Citizen's superimposition control technology, which allows the sub spindle to track the upper turret for cutting reverse-end features while the same turret is performing front-end operations on bar at the main spindle. If the lower turret is operational at the same time, three tools are in cut simultaneously, delivering the performance of a triple-turret lathe for a significantly lower capital outlay.
Another benefit that Bryken operators appreciate is their ability with the Mitsubishi control to use the handwheel to run through an entire machining cycle to verify the program and detect any potential clashes.
Over the years, market forces have dictated a move at Bryken towards more fixed-head turning for the production of larger diameter, complex components, the simpler work having largely disappeared overseas. Nevertheless, nearly one-third of the lathes on-site are still of the sliding-head variety. The four Citizen Cincom models are the most recently installed, three M32-VIII lathes and an L20-XIILFV, the cardinal numbers representing maximum bar diameter.
The latter machine, installed in May 2018, was bought to produce sub-sea oil and gas components from tough materials such as Monel, Inconel, titanium alloy and 440C stainless steel. These metals produce stringy swarf that benefit greatly from the low frequency vibration (LFV) functionality built into the operating system of the Mitsubishi control.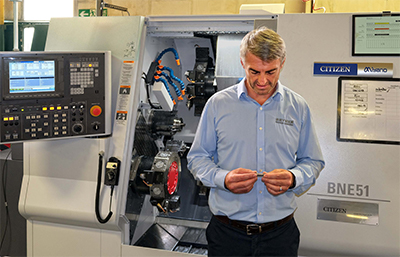 Mr Taylor continued, "We saw a demonstration of LFV in Citizen's Bushey showroom and were impressed with the way chips break up and do not clog the machine, or wrap around the component or tool. It means we can leave the machine running unattended for long periods.
"LFV can be simply switched on and off by G-code in a program. We use it for turning at the main spindle and axial drilling at the sub spindle of the L20 and switch it off to maximise metal removal rate when milling with the live tools.
"We tried making parts from these exotic materials on other sliders but the swarf was not chipping, even with high pressure coolant. Tool life was so poor it was taking away a lot of the profit. Now cutters last at least twice as long, plus there is less machine downtime and scrap is more or less eliminated."
Low frequency vibration technology has started to be rolled out across the Miyano fixed-head lathe range with the introduction of the BNA-42GTYLFV and Mr Taylor is keeping a close eye on this development. He pointed out that subcontractors rarely know the orders that will be coming in next and which materials they will be asked to machine. As LFV is not a pecking macro that tends to prematurely wear out tools, but is integral within the control system, having this built-in chipbreaking capability is of great benefit when machining stainless steels, copper and plastics as well as the nickel and titanium alloys.
Mr Taylor concluded, "We source a lot of lathes from Citizen because they have a wide range of machines that use advanced technology. We also receive good support from them, especially the applications engineering and training they provide. They and their equipment have made a big improvement to our operational efficiency."