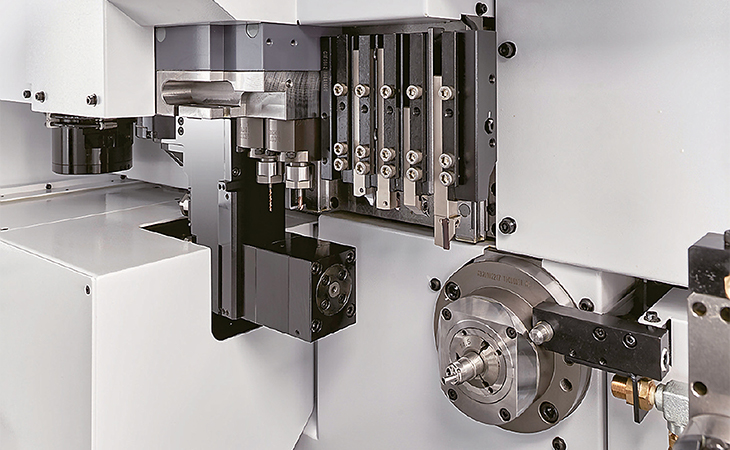 A fourth variant has been added to the versatile Cincom L20 sliding-head CNC turning centre range from Citizen Machinery UK. The top model, L20-XII, which has a 135-degree swivelling B-axis mounted on the gang tool post for working at either of the opposed spindles, is now available with an automatic tool changer (ATC) for swapping up to 30 mm diameter cutters in a chip-to-chip time of four seconds. Both the tool carrier and magazine move in the Y1-axis to effect tool change.
Believed to be a first in a Swiss-type turning machine, the ability to exchange 12 different cutters in the lower position of the B-axis carrier greatly extends the machine's versatility when executing angled crossworking or end facing operations. A 13th tool is fixed in the upper position on the carrier. While the cutters are normally live for performing drilling, slitting, hobbing or multi-axis milling, positions may be filled by turning tools if expedient.
The total number of tools that may be mounted in the working area of the Cincom L20-XIIATC is 34, providing considerable flexibility to ensure that components are machined in as few set-ups as possible, normally one. Cutters are driven by a 2.2 kW motor at up to 12,000 rpm, so even small diameter mills are capable of productive metal removal rates.
As its designation implies, the lathe is designed to turn components from 20 mm diameter bar, although oversized options allow up to 25 mm diameter material to be accepted. Another feature contributing to the lathe's versatility is the ability to switch over quickly between Swiss-type operation and non-guide bush turning for more economical production of shorter components up to 2.5D. This mode results in less bar wastage due to the shorter remnants and is well suited to coping with tight drawing tolerances and close bore-to-OD geometry. The removal of the guide bush also means that the diameter of the stock material does not have to be tightly controlled.
To underscore the flexibility of use that is possible with this machine, it is noteworthy that it can be supplied in an LFV version with Citizen's patented, programmable, low frequency vibration chipbreaking software. Furthermore, laser processing can be integrated to provide almost limitless possibilities for creating burr-free geometric shapes or precision holes as small as 0.2 mm diameter in tube or predrilled solid bar.