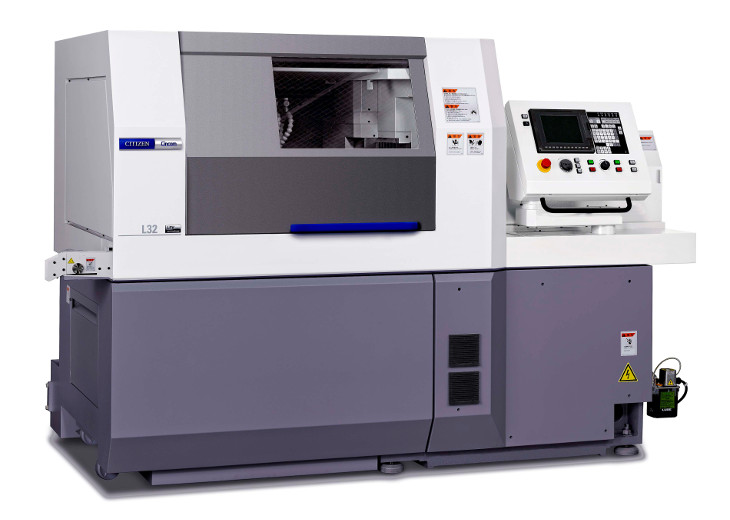 Two new sliding-headstock, twin-spindle, turn-milling centres of 32 mm bar capacity have been added to Citizen Machinery's Cincom programme. Designated L32-X LFV and L32-XII LFV, both feature the firm's patented, low frequency vibration software in the control's operating system that acts in two axes to convert what would normally be long, stringy swarf into short, more manageable chips. It is particularly helpful when machining stainless steels, plastics and copper and can be applied not only to turning but also to grooving, thread cutting and drilling.
Unlike the two other L32 bar autos in the range, the 8-axis L32-X adds a Y2 axis to the Z2 axis on the back tool post. So also does the 9-axis L32-XII, which additionally has +90 / -45 degree B-axis swivel on the front gang tool post, whose rotary tools can work at either spindle to produce angled holes. Both machines are available in 35 mm and 38 mm bar diameter versions and all may be used with or without the guide bush to suit the application.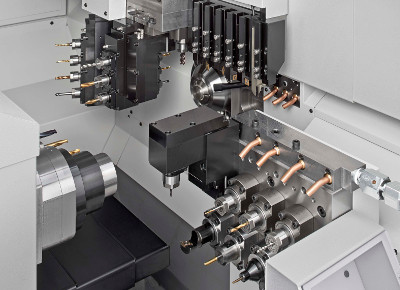 The new L32 design is modular, enabling a user to optimise their manufacturing costs by selecting functions that achieve the ideal machine configuration for their needs, while retaining the option of being able to add extra functionality later. A workpiece conveyor is standard equipment. Control is by the Industry 4.0-ready Mitsubishi 800 CNC system, which allows up to three tools to be in cut at the same time.
Up to 44 tools for front, back and cross machining are available in the -X model, while the B-axis -XII version accepts four fewer. Speed range of the 3.7 / 7.5 kW main spindle and 2.2 / 3.7 kW counter spindle is up to 8,000 rpm. Both have a C-axis for use in conjunction with driven tool stations in the three tool carriers. Fast acceleration of tool rotation up to 6,000 rpm minimises cycle times. Rapid traverse in the linear axes is 32 m/min except in Y2, which moves at 24 m/min.