NDB Engineering is a highly specialist sub-contract fastener machining business. Its portfolio of fastener production contains many that are bespoke with most demanding high precision components machined from toughened and corrosion resistant higher grade super alloys including exotic materials, Hastelloy, Super Duplex stainless, cobalt and nickel alloys.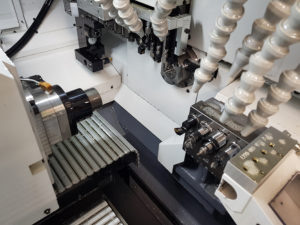 Said Managing Director Andy Williams: "With customers in oil and gas, MOD, chemical processing and power generation sectors, machining capability and quality are critical to our business platform and as being a small global machinist company, we cannot begin to tolerate errors."
This he explains is why investment is so important leading to NDB spending £500,000 in the last 12 months on the latest turn-milling technology from Citizen Machinery UK. This budgeted spend funded through Citizen's tailored finance package covered two Citizen Cincom L20-VIIILFV sliding head turn-mill centres and a Miyano BNE-51MSY fixed-head, turn-mill centre plus Citizen's Alkart CNC Wizard programming aid, all now forming a critical part of the future business strategy. As a result, opportunities are being created to gain higher productivity and spindle utilisation with ever greater confidence in quality being maintained.
He said: "These machine installations have also saved us having to seek outside help to satisfy our growing order book as we were very concerned about loss of direct control especially over quality if we used outside sub-contractors."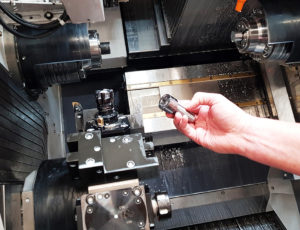 NDB was originally set up in Birmingham in 1998 with Mr Williams as a founder member. This led to him leading a management buyout in May 2017 with joint director Rebecca Dainter. Together, following the acquisition, they championed the direction and growth potential focusing on direct sales rather than through distributors bringing today's head count to 41 people.
With sales of £3.1 million in addition to UK customers, NDB produced fasteners can be found in use around the world including Argentina, Australia, Brazil and even in China and India, each of which have highly competitive indigenous suppliers.
According to Ms Dainter: "During the last nine months we have invested over £500,000 on high specification material from leading European and American suppliers and therefore we view scrap parts as to be not only upsetting to our customer base but also being the cause of a large financial burden."  She explained that over the previous 15 years the company had installed sliding head machines but swarf control was a constant attention seeking headache. It restricted output, without care could easily degrade quality and decimate our ideal productivity targets."
She followed on to reveal how when Low Frequency Vibration (LFV) technology became available from Citizen they immediately saw the potential to bring greater security and control when machining difficult materials. She said: "By eliminating swarf nesting problems, that demanded constant attention from the setters, these have disappeared.   We have now really improved our productivity by having the confidence to run unmanned and on many parts we can go through the night giving us a massive leap in capacity with the added bonus of one setter operator running three machines."
Mr Williams takes up the investment theme commenting on the decision to also buy the Miyano BNE-51MSY. He said: "The machine gives us a greater capacity than the sliding heads, is very rigid enabling us to use the power available to maximise productivity on larger bar size difficult to process material." He then describes a nickel alloy fastener with a milled hexagon head that was previously a troublesome 6 min cycle time over three operations. It is now machined complete in one operation taking 2 minutes. He said: "We now have the 'shortest route to invoice' which helps our cash flow while making us so competitive with a level of accuracy we could only have dreamed of before plus an immediate gain in surface finish achievements."
On the Citizen Cincom machines the patented LFV technology is not based on changing macros at the control but on the initiation of selectable G-code sequences programmed at the machine control to impart the most appropriate size of chip to be produced. This introduces oscillation to the action routine of the cutting tool backing it off through the servo axes in the direction of feed using the enhanced development of the machine's special drive system. This happens in phases of tens of microns which are precisely synchronised with the rotation of the machine's spindle.
The resulting controlled 'air-cutting' breaks the swarf into the designated chip length which prevents 'stringing' and 'bird-nesting' and can be applied to turning, drilling and even threading cycles. LFV can be switched in or out of the programmed cycle as required and helps reduce the on-set of built-up edge on the tool tip thus extending, as NDB quickly found, its in-cut life. LFV also allows deeper depths-of-cut and enhances the achievement of improved surface quality through the wiping action of the tool.
Said Ms Dainter: "We are still running with the same tooling as before and well-proven cycle times on the new Citizens are roughly the same. However, in our view it's not all about that. What we are achieving is the machining of parts where we could suffer badly in achieving drawing demands and in some cases could hardly cut the material. Now we are very confident that all the parts produced out of up to 20 mm bar are successful. Our productivity has increased dramatically with the machines running continuously and with swarf problems eliminated, we can run one setter operator easily covering three machines."
Cycle times on the 5-axis Type-L20-VIIILFV tend to vary between 52 seconds and two minutes. The machine has more than adequate 37 tool positions enabling further improvements to be made in the ratio of cost-to-performance. The main spindle is powered by a 3.7 kW, 10,000 revs/min motor and the back spindle has a 1.5 kW, 8,000 revs/min drive. The driven tools on the gang toolpost are 1 kW, 6,000 revs/min while the opposite and back toolpost both have 0.75 kW, 7.500 revs/min drives. The B-axis driven tools are powered by 1 kW 8,000 revs/min motor and rapid travel rates are fast at 32 m/min in each axis and 8 m/min for Y.
Meanwhile, the 8-axis Miyano BNE-51MSY has created a massive advantage in lead time reduction due to the ability to overlap in a cycle and cut with up to three tools simultaneously on bar sizes up to 51 mm diameter. The machine has two 12-station driven turrets one with three axes, the other with two that can simultaneously service either, or both spindles.
The main spindle has a 15 kW drive and the secondary 2-axis spindle is powered by a 7.5 kW motor. Both spindles have a 51 mm capacity with a maximum speed of 5,000 revs/min. Each driven tool position is ideal for milling with a 2.2 kW high torque 25 Nm drive and programmable speed of 6,000 revs/min.
Since the management buyout, NDB Engineering has also invested over £100,000 in revamping its freehold premises in Willenhall. Unlike many, the firm was able to avoid the recent oil industry slow-down as demand for specialist fittings from one customer in particular, a larger end-user in the oil and gas sector based in North America, continued unabated.
NBD Engineering supplies SAE, ASTM and ISO grade fasteners including the likes of stud bolts, hexagonal bolts, socket cap screws and nuts to upstream OEMs. It also supplies as well as high tensile fasteners, power coupling fasteners and safety critical high integrity fasteners to the defence industry which includes the MOD.
Meanwhile, looking towards the future, the two joint directors are now considering using their experience in UK and international markets to follow an acquisition trail. The idea is to build a small group of complimentary firms in order to create a greater breadth and future security for the business.
View our Citizen L20-VIII LFV
View our Citizen BNE-51MSY
View our Alkart CNC Wizard