Citizen Machinery's ground-breaking LFV (low frequency vibration) chip-breaking software, which forms part of the operating system in the controls on some of the manufacturer's sliding and fixed head mill-turn centres, will feature strongly at MACH 2022 as this year marks the fifth anniversary of the technology's launch. The principle of operation is distinct from, and superior to, pecking macros programmed into individual machining cycles.
The patented system is gradually being rolled out across the company's Cincom sliding head lathes, initially on the main spindle and more recently also on the sub spindle. To enable this, the construction of the machine models is systematically being strengthened to withstand the rigours of the momentary air cutting that creates the chip-breaking effect. There will be five Cincom machines on show at MACH 2022 equipped with LFV. A pair of Citizen's Miyano fixed head lathes also benefits from the technology, one of which will also be exhibited.
The chip-breaking functionality can be switched on and off by G-code during a cycle, when deemed expedient, as if it were part of the program. The size of the actual chips can also be predetermined, as close control is maintained over the relationship between spindle speed and LFV oscillation of the tool by tens of microns, which has the effect of repeatedly retracting the tool tip clear of the workpiece. Coolant is able to penetrate the cut more efficiently, so tool life is extended and surface finish is improved.
Stringy swarf is therefore a thing of the past, even when machining difficult to chip materials like stainless steel, aluminium, copper and plastics. The need for manual swarf clearance is avoided, raising productivity and unattended running time, while the risk of damaging the workpiece and tool is removed. Futhermore, depth of cut may be increased substantially, raising productivity.
Three modes of LFV may be selected for machining with static and driven tools. The first is ideal for turning and grooving of outer and inner diameters, the second is best suited to micro-drilling operations that require high surface speed machining, while the third offers vibration-free thread cutting.
Sliding and fixed head lathes on show
(machines in bold are described in more detail below)
A total of 12 bar fed, sliding and fixed head mill-turn centres will be demonstrated under power on the Citizen Machinery UK stand at MACH 2022 (Hall 20, stand 150), including an automated production cell with integrated loading and unloading. Accent will also be placed on high technology software and mechanical enhancements that extend the scope and efficiency of machining on the Japanese-built lathes.
Making its world debut will be the new, 20 mm bar capacity Cincom L20-XIIB5LFV. The series-5 Cincom M32-VIIILFV will appear for the first time at a MACH show, as will the fixed head Miyano BNE-65MYY. Both have been redesigned to offer more power and flexibility and have been fitted with the latest Mitsubishi 800-series touchscreen control. Consequently, the latter machine is Citizen's first 65 mm capacity lathe to offer superimposed machining, which allows three tools to be in cut together under simultaneous 5-axis control for elevated levels of productivity.
On show for the first time will be a Cincom L32-XLFV with integrated, high-speed laser cutting, a capability that was originally developed for efficient production of apertures in thin-wall stents on smaller Citizen sliding head lathes.
There will be a Cincom D25-VIILFV exhibited for the first time at a MACH show with the proprietary chip-breaking software. As on many other sliding head lathes manufactured by Citizen, the user has the advantage of being able to remove the guide bush for more economical material usage when producing shorter components up to typically 2.5 times the bar diameter.
A further highlight will be a Cincom A20-VIILFV, the first Citizen lathe to be equipped with multi-axis LFV software in a Fanuc-based Cincom control dedicated to this machine model.
The exhibition will also feature the first showing at a national exhibition in the UK of the 12 mm bar capacity Cincom L12-XLFV with five rear-facing static and driven end-working tool positions and the addition of a Y-axis on the counter spindle to mirror the main spindle's three axis movements. The machine is intended primarily for production of dental abutments and implants, as well as other complex components.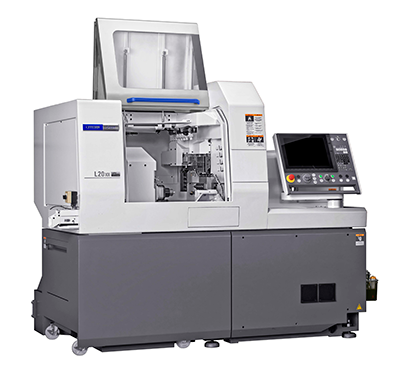 From the Miyano stable, the ABX-64THY with 80 mm bar capacity and an ANX-42SYYLFV with Fanuc control will also make their debuts at a national show in the UK. Making another appearance at MACH to illustrate automated chucking will be the twin-spindle Miyano GN-3200W equipped with a high-speed loader capable of achieving high levels of productivity. The compact, rigid, thermally symmetrical machine offers a wide choice of infeed/outfeed devices, single or double high-speed gantry loaders, and transfer and turnover units, making the machine ideal for automated production.
Rounding off the exhibits on the stand will be an educational area explaining the latest Citizen software. It includes Eco Function hybrid technology that automatically saves energy through the intelligent use of power during non-cutting periods, underpinned by clear, on-screen graphical information showing present, maximum, cumulative and historical power consumption values. The next iteration of Alkart Wizard for off-line programming will also be in evidence, as well as Citizen's Industry 4.0 capabilities encompassing the latest machine networking and monitoring functionality.
Debut of the new L20-XIIB5LFV sliding head lathe
The Cincom L20, Citizen's best-selling sliding head lathe, has been upgraded to simultaneous 5-axis control via the improved, super-fast M850VM CNC with 15″ touchscreen. The new L20-XIIB5LFV allows multi-axis programming for superimposed machining with up to three tools in cut at the same time. It makes the machining of complex parts faster and easier and improves process stability.
The machine has a B-axis whose swivel range has been increased to 110 degrees, allowing more complex machining to higher accuracy at the main spindle, while the number of turning tools has been raised to six. Other improvements include a larger pitch between adjacent tools on the opposing and back tool posts to facilitate setting and reduce set-up time, a higher specification sub-spindle for improved productivity and the ability for LFV to be used when reverse-end machining.
First national showing of the Cincom L12-XLFV
For efficient machining of dental abutments, a minimum of five rear-facing end-working tool positions including driven stations is required, as well as the addition of a Y2-axis to the X2 and Z2 movements on the counter spindle to match the three degrees of freedom on the main spindle. All these features are provided on the 12 mm bar capacity Cincom L12-X. Previously, to obtain this level of functionality, a user would have had to purchase a 16 mm or even 20 mm capacity lathe, unnecessarily large and expensive for production of such slender components.
In this latest type-10 lathe, a built-in 12,000 rpm motor drives the counter spindle and acc/dec times have been reduced, promoting higher productivity. Rapid traverse at 35 m/min in all axes contributes further to minimising idle times. A modular tooling system has been adopted for the gang and back tool posts and an extensive variety of tooling layouts up to a maximum of 38 cutters is possible, including the ability to drill angled holes.
L32-X sliding head lathe exhibited for the first time with laser cutting
Launched in mid-2019, the Cincom 8-axis L32-XLFV will be on show for the first time at a MACH exhibition, without the optional LFV software but with the addition of high-speed, in-cycle laser cutting. The technology, which was originally developed for efficient production of apertures in thin-wall stents, is capable of fulfilling a wide variety of additional operations when machining tubular stock, or bar after it has been drilled longitudinally.
The development provides the option of in-cycle production of burr-free holes as small as 0.2 mm diameter and features such as spiral cuts with a 0.025 mm kerf. Consistent and accurate radii of less than 0.1 mm in the corners of slots can be achieved without risk of tool wear or breakage and at a far faster rate than is achievable by a separate EDM process. The non-contact, deflection-free, swarfless machining unit, deployed in the gang tool post, greatly expands freedom of design in the medical, electronics and many other industries.
Redesigned M32-VIIILFV sliding head lathe offers 5-axis machining
Although already shown elsewhere, for example at EMO 2021 in Milan, the new flagship series-5 M32-VIIILFV sliding head lathe with Mitsubishi M850W control will occupy a prominent position on the Citizen stand. The 10-axis machine has undergone a fundamental makeover and is considerably more robust than its predecessor, with larger and more rigid ballscrews and a bed that is 500 kg heavier, bringing the total installed weight to 4.3 tonnes.
The 10-station turret, which runs on hardened box ways, incorporates a new tooling system employing a single, heavier duty, 2.2 kW drive to an increased number of live cutters. Only the selected tool rotates – a world first for Citizen. The gang tool post has been equipped with 1.5 times faster live tools powered by a 2.2 kW motor, as well as a programmable, 9,000 rpm B-axis to enable simultaneous machining in five CNC axes rather than four; while the back tool post with Y-axis now has adjustable-angle tooling. Both features enable production of more complex parts, with three tools in cut at the same time.
Cincom D25-VII gains LFV
Since it was launched at the last MACH exhibition in 2018, Citizen has incorporated its chip-breaking software into the 12-axis, 25 mm capacity Cincom D25-VIILFV CNC mill-turn centre, which will be on show this year. The optional upgrade considerably enhances the lathe's production efficiency. Operational flexibility is maximised by deploying up to 59 tools in the cutting area.
The latest D25-VII features the Industry 4.0-ready Mitsubishi 800 CNC system with touchscreen and QWERTY keyboard, which also provides triple axis control groups for simultaneous cutting with three tools. The contact angle between each cutter and the component is optimally maintained during production, enhancing surface finish, reducing cycle times and extending tool life.
New Miyano BNE-65MYY fixed head lathe with Mitsubishi 5-axis CNC for superimposed machining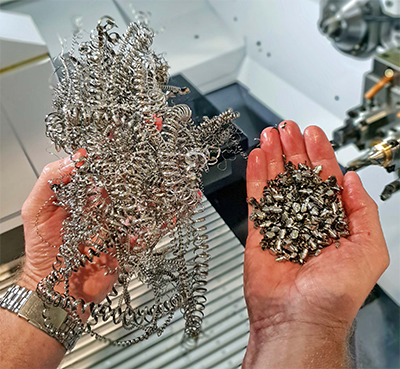 Complex components up to 65 mm diameter may be turned and milled from bar on the new Miyano BNE65-MYY 10-axis fixed head lathe. Equipped with two Y-axis turrets, one positioned above and the other below the centreline of the twin-opposed spindles, considerable flexibility is provided for balancing front and back working cycles. The 8-tonne machine was introduced in the autumn of 2020 and is therefore making a first appearance at a MACH show.
Two-axis movement of the sub spindle facilitates superimposed machining under the control of a Mitsubishi M830W. Tooling on both faces of the top turret can simultaneously cut front-end features on bar stock and reverse-end features on a parted-off component. With the lower turret also working at the main spindle performing pinch turning, milling or drilling, for example, or perhaps OD turning while axial drilling is in progress above, three tools may be in cut at the same time.
ANX-42SYYLFV with Fanuc control
Also of double Y-axis configuration, the ANX-42SYYLFV is one of just two Miyano lathes currently to offer LFV, the other having only one Y-axis. The compact, 42 mm bar capacity, 10-axis machine is ideal for OEMs and subcontractors keen to leverage the quality and productivity of a Miyano lathe and at the same time standardise on Fanuc controls on their shop floor for the sake of operator familiarity and compatibility with other machines.
In addition to LFV software, the 15-inch XGA (extended graphics array) touch panel Fanuc 31iB control features a new Citizen HMI and incorporates the company's multi-axis technology to allow 3-axis simultaneous cycles, double Y-axis cutting and superimposed machining with three tools. Commonality of tool holders with Citizen's popular BNA range of Miyano lathes leads to cost savings for existing users of the supplier's equipment.
First national showing of 80 mm capacity Miyano fixed head lathe
The largest bar capacity CNC lathe in the Citizen Machinery product portfolio is the new 12-axis Miyano ABX-64THY, a fixed head model also launched in the autumn of 2020 and therefore new to MACH. It has twin-opposed C-axis spindles and three Y-axis turrets moving over hand-scraped box ways, providing maximum rigidity. Originally designed for mill-turning parts from 64 mm diameter stock, the lathe can now be uprated for continuous, automated, unattended production of components from bar up to 80 mm diameter. Maximum billet size when chucking is 165 mm diameter.
The three 12-station live turrets can be in cut simultaneously to achieve very high levels of productivity. Two turrets are positioned above the spindle centreline and are dedicated to working at the 15 kW / 2,750 rpm main spindle and 7.5 kW / 5,000 rpm counter spindle respectively. The other turret is located below and has unrestricted travel to operate at either spindle and provide flexibility for balancing front and reverse end machining operations, or to deploy a tailstock centre to support shaft-type components being machined in both spindles. Again, control is by a Fanuc Series 30i-B.