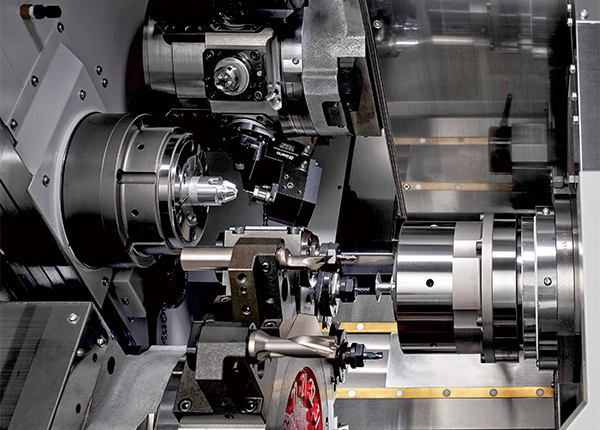 A total of 12 CNC Cincom sliding-head and Miyano fixed-head turn-milling centres will be demonstrated under power on the Citizen Machinery UK stand at MACH 2020, including automated production cells with integrated loading and unloading. Accent will also be placed on high technology software and mechanical enhancements that extend the scope and efficiency of machining on these Japanese-built lathes.
On show for the first time will be Citizen's flagship series-five Cincom M32-VIII and a Miyano BNE‐65MSB, both of revised design with more power and flexibility plus the latest Mitsubishi M800 5-axis touch-screen control. Consequently, the latter machine is the first 65 mm capacity Miyano lathe to offer superimposed machining, which allows three tools to be in cut together under simultaneous 5-axis control for elevated levels of productivity.
New will be a Cincom L32‐X with Citizen's 2-axis LFV programmable chipbreaking software built into the operating system of the control as well as integrated, high-speed laser cutting capability, a technology that was originally developed for efficient production of apertures in thin-wall stents on smaller Citizen sliding-head lathes.
A further highlight will be a Cincom A20‐VII LFV, the first Citizen lathe to be equipped with patented Fanuc-based, multi-axis LFV software for breaking into manageable pieces the stringy swarf often generated when turning and drilling stainless steel, copper and plastics.
The exhibition will also mark the first UK showing of the 12 mm bar capacity Cincom L12-X LFV with five rear-facing static and driven endworking tool positions and the addition of a Y-axis on the counter spindle to mirror the main spindle's three degrees of freedom. The machine is intended primarily for production of dental abutments and implants as well as other complex components.
Rounding off the exhibits on the stand will be an educational area, explaining the latest Citizen software. It includes Eco Function hybrid technology that automatically saves energy through the intelligent use of power during non-cutting periods, underpinned by clear, on-screen graphical information; the next iteration of Alkart Wizard for off-line programming; and Citizen's Industry 4.0 capabilities encompassing the latest machine networking and monitoring functionality.