MEGAN MCDONALD has an additional sponsor, CNC turning machine company Citizen Machinery UK, to help her rise in the ITU rankings for elite women triathletes from her current position of 667th in the world.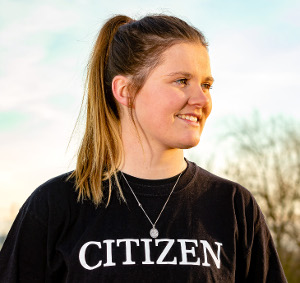 Now 21, Megan has performed consistently well in triathlons over the years and showed much early promise. She started racing at the age of eight and in 2012 competed in no less than 14 events, coming first in five of them. In 2014, as a competitor in the Junior Women category, she won the London Triathlon in a time of 1 hr 11 min 40 sec, came 3rd in the European Junior Triathlon in Nottingham and 7th in the European Junior Triathlon France in Vierzon.
After moving up into the Elite Women category, she completed the 2016 GBR Sprint Triathlon National Championships in Liverpool in 1 hr 4 min 46 sec, coming 14th, and a year later was placed 24th in the Holten ETU Sprint Triathlon Premium European Cup in the Netherlands.
More recently, Megan qualified to represent Great Britain in the 2019 Pontevedra ITU Cross Triathlon World Championships on 30th April in north-west Spain.  She came ninth after competing against the best under 23s in the world, and 23rd in the Elite Women category. The event comprises a 1 km swim, 30 km off-road cycling leg on a mountain bike and a 7 km run, also off-road.
Known by the nickname Mini Mac, Megan hails from Leamington Spa but lives in Loughborough, where she works as a part-time swimming teacher and trains with the Loughborough Development Squad.