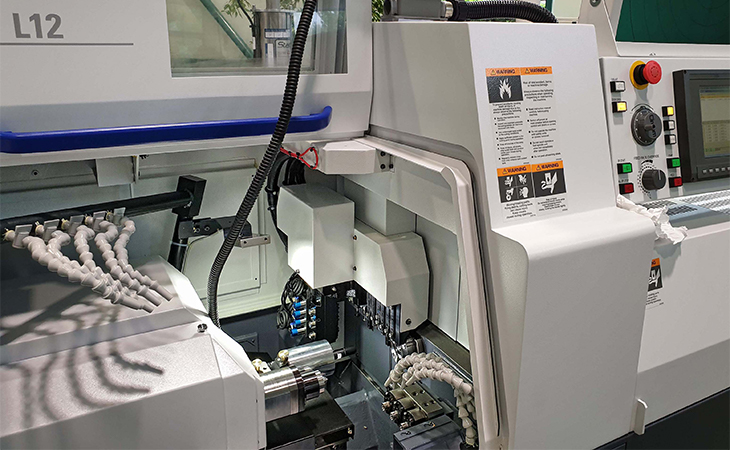 Citizen Machinery UK, which supplies Cincom sliding-head and Miyano fixed-head turn-mill centres into the British and Irish markets, has been providing manufacturing solutions to OEMs and subcontractors in their supply chains for virtually the entire time the company has been in business. However, the degree of customisation that it is being asked to engineer into the equipment it supplies has now reached such a high level that it has decided to centralise this side of the business by setting up a dedicated centre, CMSolutions, at its Bushey headquarters.
Managing Director Edward James said, "As the largest supplier of bar fed lathes into the markets we serve and being a specialist exclusively in turn-milling, we felt it was fitting for us to raise the bar in terms of the level of support customers can expect.
"In our industry it is no longer enough to deliver a so-called turnkey package, which is subject to a lot of interpretation and often misunderstood. It can mean simply the supply of a machine, a few cutters and a couple of programs.
"Customers demand more than that these days. They want a fully worked out, end-to-end solution that has been proven off-site before delivery, complete with attachments, peripherals, in-house-written software and perhaps additional robotic functions such as cleaning and packaging. Projects are often demanding in terms of their scope, level of innovation, the process capability to be achieved and return on investment required."
CMSolutions operates from the Bushey premises independently from the applications department there to project-manage such complex, high-level installations, from initial consultation through design, configuration, assembly and prove-out to delivery, acceptance and training.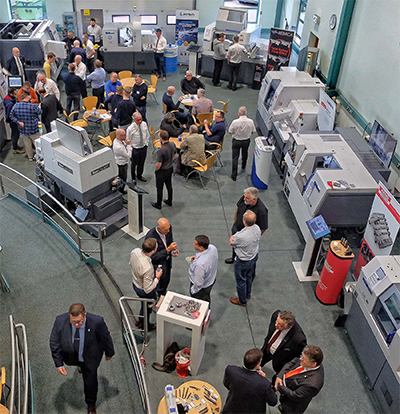 The solution could be stand-alone or integrated into a larger manufacturing plant; and it may be a pre-existing package or designed specifically at either the customer's request or at the instigation of Citizen. In all cases there will be a sound business case for what is delivered. It will be pragmatic, process-optimised and cost-effective, not necessarily the top solution possible, which may be overly expensive and take too long to amortise.
The Bushey venue will also house a permanent exhibition of turn-mill solutions and software, which will often involve automation such as robotic or gantry loading of billets, forgings, and near net shape parts and unloading of components. Additionally, it will show technology that is less frequently encountered, such as in-cycle laser cutting of apertures in the thin wall of a stainless steel stent.
Other specific solution examples to be presented will include the mounting of a digital microscope and a 21-inch screen to assist setting of micro tooling on a 12 mm capacity sliding-head lathe used for watch component manufacture; and the provision on a 32mm capacity sliding-head lathe of a pair of high frequency, 60,000 rpm spindles in the gang toolpost, together with mounting adapters, pneumatic and electrical supplies, custom software and displays for spindle speed feedback.
Mr James added, "We could see the direction of travel towards the need for a greater degree of machine adaptation to meet customers' production requirements, so we have had this development in mind for several years. It was part of the justification for establishing our Turning Centre of Excellence in Brierley Hill last year.
"The showroom and technical centre there is now the main location for machine arrivals, configuration and despatch, leaving Bushey free to concentrate on technology advancements and their permanent display and demonstration.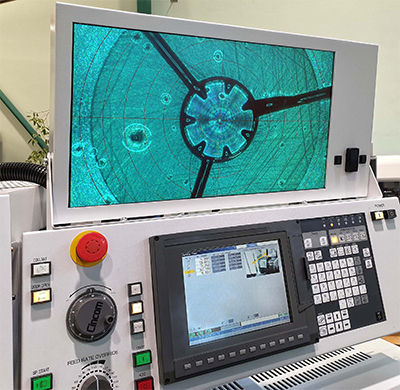 "Customers are looking for stable running of their lathes over long periods. We already have our LFV non-macro chipbreaking software to assist in that goal, which is programmable and especially beneficial when cutting materials that tend to produce stringy swarf. It is another example of the importance and focus Citizen places on technological progress."
As a postscript, he mentioned that Citizen as a group reinvests one-quarter of its annual profit into research and development and is continually launching new machines and technology, such as LFV, which has been extended recently from the main spindle to the sub spindle on many Cincom lathes and is increasingly available on the Miyano range of fixed head lathes also. Another recent innovation is an automatic tool changer on the L20 Cincom sliding-head model.
There will be a significant and ground-breaking new launch in the first half of 2021 of a lathe designed by Citizen Machinery UK that the Japanese parent company has agreed to manufacture. All of this activity dovetails neatly with the formation of CMSolutions, which Mr James predicts will gain in importance as manufacturing industry moves forward after the pandemic and looks for ever more efficient methods of production and return on investment.
He also thinks that opportunities will be enhanced by increased reshoring of manufacturing from China and elsewhere, coupled with the emergence of electromobility, which will be beneficial for Citizen and other lathe suppliers in particular, as plug-in hybrid electric cars contain a higher proportion of rotational parts than conventional vehicles.