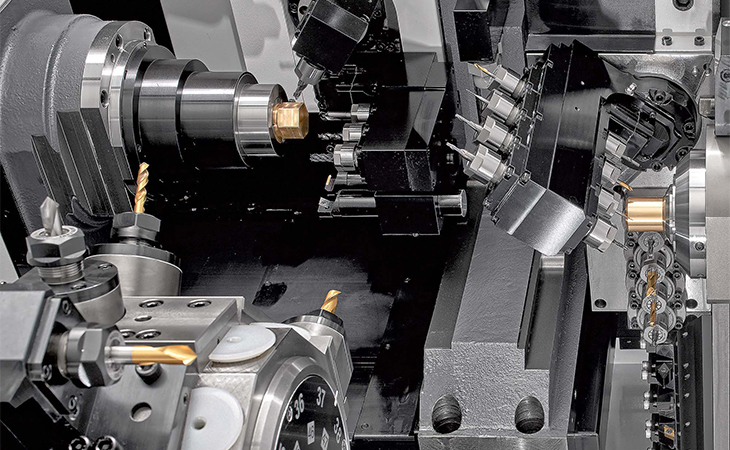 Japanese CNC mill-turn centre manufacturer, Citizen Machinery, has announced improvements to three of its Cincom sliding-head models, all designed to shorten cycle times and raise productivity when producing components from 32 mm diameter bar and larger. The machines are available in the UK and Ireland through subsidiary company Citizen Machinery UK.
LFV added to the M32
The company's flagship M32 model, which can produce parts from bar up to 38 mm in diameter with cutters in a gang toolpost with B-axis, a 10-station turret and a back tool post with Y-axis, has gained the manufacturer's low frequency vibration (LFV) chipbreaking capability on the main spindle.
It makes the machine ideal for efficient turning, threadcutting and drilling of malleable materials, as the normally stringy swarf is broken automatically into shorter chips that do not wrap around the tool or workpiece, without any need for high pressure coolant. Productivity is maximised by avoiding having to stop the machine repeatedly to remove clogged swarf, facilitating minimally attended operation and enabling lights-out running.
Embedded in the operating system of the Mitsubishi M800-series control, LFV synchronises the motion of the axis servo drive with the speed of rotation of the main spindle. The function is highly controllable, as it can be programmed using G-codes to switch on and off during a cycle and either increase or decrease the size of the resulting chips. It is distinct from traditional pecking macros in a CNC program which tend to cause built-up edge, compromising machining accuracy and shortening tool life.
Other notable features of the lathe are simultaneous 5-axis machining, up to three tools in cut simultaneously and the possibility to change over in half an hour to use the machine in guide bush-less mode to reduce remnant length when turning shorter components.
Cincom L32 with LFV on both spindles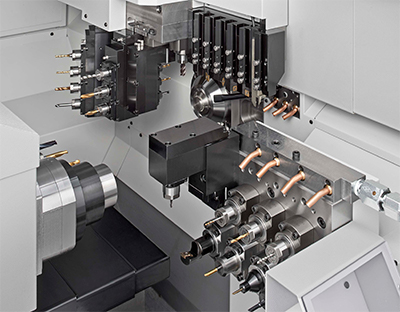 In line with Citizen Machinery's systematic rollout of LFV on all its Cincom sliding-head turn-mill centres as well as currently on one fixed-head Miyano lathe, the 32 mm bar capacity L32 slider has also benefitted from the chipbreaking technology. It already had LFV on the 3.7 / 7.5 kW main spindle but now it boasts the same capability on the 2.2 / 3.7 kW sub spindle.
LFV oscillation of the tool by tens of microns not only breaks swarf but also allows coolant to penetrate the cut more efficiently for the brief periods when the tip lifts clear of the component surface, reducing heat and prolonging tool life. Depth of cut may be increased substantially even when processing tough materials, often eliminating the need for a roughing pass and significantly shortening cycle times.
In addition to the 7-axis L32-VIII, there are two other L32 models in the range. The 8-axis L32-X adds a Y2 axis to the Z2 axis on the back tool post. So also does the 9-axis L32-XII, which additionally has a +90 / -45 degrees B-axis on the front gang tool post, whose rotary tools can work at either spindle to produce angled features. All machines are available in 35 mm and 38 mm bar diameter versions and may be used with or without the guide bush to suit the application.
D25-VIII expandable to accept 32 mm bar
Turn-milling of components up to 32 mm diameter bar with the extra productivity benefits of LFV is now also possible on the nominally 25 mm capacity Cincom D25-VIII, as an expansion kit is being offered to enable the lathe to machine the larger size of bar in both guide bush and non-guide bush modes.
Manufacturers of larger components may therefore take advantage of the lathe's Industry 4.0-ready Mitsubishi 800 CNC system with touch screen and QWERTY keyboard. It provides the ability to have up to three tools in cut simultaneously for increased productivity and enables simultaneous 5-axis machining to maintain precise cutter orientation with respect to the surface of a complex workpiece.
The machine is equipped with twelve CNC axes including independent Z2-axis movement in addition to X2 and Y2 on the rear gang toolpost. Twin platens enable balanced turning, threading, milling or drilling, or simultaneous rough and finish turning. A 135-degree swivelling B1-axis has been added to the X1 and Y1 motions of the front tool post, which carries up to four driven tools on either side to service the main and counter spindles, a configuration Citizen Machinery believes is a world first.
A manually-set angular spindle can be mounted on the rear gang carrier and the back toolpost. In addition to the major advantage of programmable control of chip size, LFV has the ability to help eliminate deflection when turning small, precise diameters. An optional, two-axis, opposed tool carrier next to the counter spindle provides a facility for deep hole drilling at the main spindle.