With the launch of its L32-VlllLFV sliding head turn-mill centre, Citizen Machinery UK brings its patented Low Frequency Vibration (LFV) machining technology to aid production of larger components from up to 38 mm bar size.
The Cincom L32-VlllLFV has removable guide bush option with a maximum machining length of 320 mm in a single chucking and with the guide bush removed, shorter parts up to 80 mm in length, thus providing major material savings.
LFV introduces oscillation to the routine action of the cutting tool through the servo axes of the drive system in the direction of feed. This is in phases of tens of microns which are precisely synchronised with the rotation of the machine spindle. The resulting controlled 'air-cutting' breaks the swarf into a designated chip size which prevents 'bird-nesting' and can be applied to turning, drilling and even threading cycles.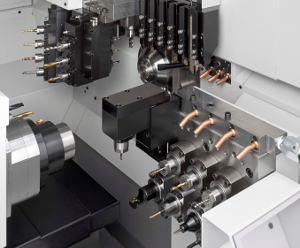 Main and back spindle speeds are 8,000 revs/min with the main powered by a 7.5 kW and the back by 3.7 kW motors. Driven tools are 1 kW giving 6,000 revs/min and rapid traverse rates are 32 m/min.
Up to 30 tools can be carried on the new machine with four available on the gang tool post. As an option, four driven tools with one position having a manual setting adjustment between 0 and 90 deg can be applied.
The opposite tool post has four fixed tools with options for driven positions and the back tool post has five fixed tools with options for four driven and one fixed.