Like most turned parts subcontractors, Sub CNC Precision uses its 14 twin-spindle, multi-axis bar autos, in this case all from Citizen Machinery UK, to turn-mill parts in one hit from a wide variety of metals, from mild and stainless steels through copper and aluminium alloys to exotics such as Monel, Inconel and titanium. Likewise it produces components from many types of plastic including nylon, PEEK and Delrin.
The list of industries served is also long, encompassing aerospace and defence, telecommunications, motorsport, automotive, marine, agricultural and medical, the latter accounting for 20 per cent of turnover in an average year.
So when Rolls-Royce was trying to find a suitable firm to produce a particularly difficult pair of plastic components for the Ventilator Challenge UK, it is unsurprising that its email list included ISO 9001:2008-accredited Sub CNC, whose name had been passed to the government's consortium by Citizen, which had been identified as a critical supplier.
Joint owners and managing directors of the contract machining operation, Yian Stavrou and George Dingley, received an email request from Rolls-Royce late in the evening on the last Wednesday in March. Drawings came in the following morning, quotes were issued quickly and by the afternoon provisional orders had been issued. The shaft-type nature of the components meant that they were destined for production on the subcontractor's sliding-head lathes.
Mr Stavrou recalled, "Everything happened at breakneck speed. We prepared the two programs, bought in cutting tools and ordered plastic bar that had to be ground so it would feed through the guide bushes on the sliders. Citizen loaned us a number of milling toolholders that we did not have and we were in production around the clock by the Friday morning.
"Process capability studies were completed, the paper trail put in place and the 9,000 plastic parts were machined, inspected and delivered on the following Monday to meet the contract conditions."
One of the reasons for Sub CNC winning this plastic turn-milling work, as well as subsequent urgent medical contracts, is the option to use on four of its 12 Citizen sliding-head lathes the manufacturer's patented LFV chipbreaking software. Plastic materials as well as many metals, when machined, result in stringy swarf wrapping itself around the tool and component, forcing the operator to stop the machine frequently to remove it, compromising productivity. LFV avoids this by oscillating the tool by a few tens of microns to break the swarf into small, manageable pieces, the length of which can actually be programmed.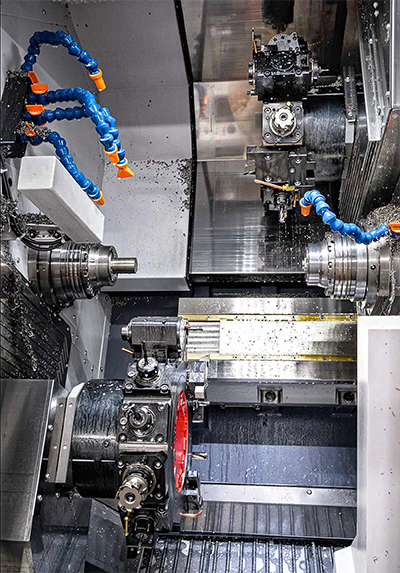 The two components for Rolls-Royce required the use of sliders capable of turning 32 mm diameter bar. The only machine of this capacity at Sub CNC equipped with LFV is an L32-VIII, which was deployed for producing the most difficult part with drilled and milled features. The other, less challenging component was put on a Cincom M32, with the long swarf broken traditionally using high pressure coolant to prevent machine stoppage.
The three other LFV Cincoms on the shop floor are for turning bar of either 12 mm or 20 mm maximum diameter. These are being extensively used to fulfil other ongoing medical work in a various plastics and long-chipping metals for which component quantities are ramping up. New contracts are also coming in, including one for the production of 70,000 medical parts in a six-week period to mid-May.
Overall, about half of the subcontractor's lathes have been made over to producing parts for ventilators and other medical products, including its two Citizen Miyano fixed-head lathes, which produce parts from bigger diameter bar up to 42 mm and 51 mm diameter respectively. The latter was devoted for 20 days to producing 10,000 actuators for ventilators and is currently producing 4,000 of the more complex valves, while the former is turn-milling 316 stainless steel medical parts. The remaining half of the turning capacity serves manufacturers in other industries that are continuing to operate during the Covid-19 crisis.
Co-director Mr Dingley added, "We are fortunate that our activities are split across two sites in Dunstable and one in Luton, so machines are fairly spread out and our operators can socially distance easily. It is a credit to our staff the way they have stepped up to tackle this urgent medical work, which involves coming in at nights and weekends, including over the whole of Easter. Day to day it is more or less business as usual for Sub CNC, except that the workload is unusually high.
"The only real difference is that we are not allowing external people to visit. We did however make an exception by asking a Citizen engineer to realign a Cincom L20 so that we could guarantee to produce a high accuracy medical component requiring a 10-micron total tolerance on cross holes and a slot. The alignment was completed within 24 hours of issuing the request – and our email was sent out on a Sunday. Everyone is pulling together at this difficult time."